FoodStarter winner launches in New World stores nationwide
Thursday, 28 October 2021
Kaitahi As One, native ingredient superfood smoothy, hits New World 147 stores.
Call to all entrepreneurs, entries are open for FoodStarter 2022.
New World shoppers across Aotearoa are now able to enjoy one of New Zealand's most innovative new products from FoodStarter winner Kaitahi As One, whose award-winning range is launching into stores nationwide this week.
Kaitahi As One's range of frozen smoothy drops are packed full of sustainable, native ingredients that will be new to many supermarket baskets. With ingredients like pūhā and kawakawa, the range is designed for people that want a smoothy that is fuss free, easy to make and full of nutritious goodness.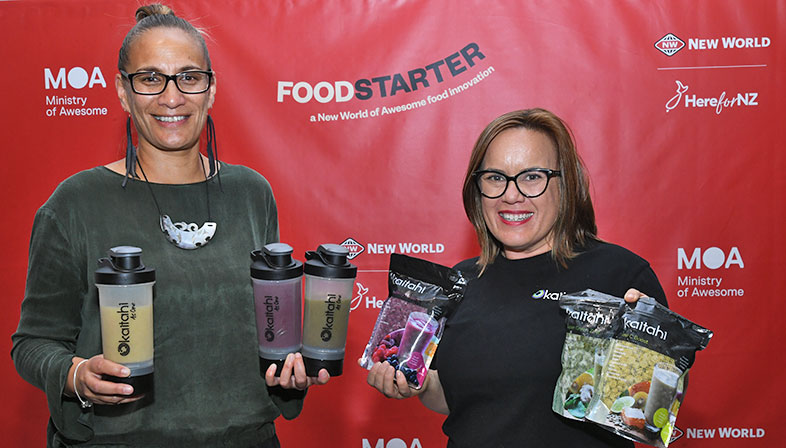 The South Taranaki iwi-owned enterprise was crowned one of two FoodStarter winners earlier this year, at the augural nationwide competition. Over the last six months, the business has been working with industry mentors and leading business support to enable it to upscale and fast-track its way into New World freezers nationwide.
Commenting on the nationwide launch, Arohaina Owen from Kaitahi As One said from the moment they won, the FoodStarter partners have been phenomenal. "From day one we've been supported with invaluable advice, given expert guidance and imparted knowledge that has brought us to this amazing milestone.
"Our nationwide New World launch has seen us go into 147 New World freezers across the country. The ability to not only upscale in such a short space of time, but develop an inspiring new brand identity and amazing packaging is something we couldn't have achieved without the support of our FoodStarter whānau. Despite the challenges presented by COVID and new lockdowns, the support has been unwavering, the past six-months have been an intense and rewarding whirlwind. "
"When we started Kaitahi As One we wanted to create a business that not only celebrated native Māori ingredients but supported the local community. The FoodStarter win and the opportunity to go into New World's nationwide has been an absolute game changer for us, it's also helping to create new employment opportunities for our community, which is incredible."
"The whole team is really excited to mark this next major phase in our business and introduce these amazing native superfoods into more homes across Aotearoa."
FoodStarter is a nationwide innovation competition and was brought to life this year with the support and expertise of industry experts from New World, Ministry of Awesome, Foodstuffs South Island, Foodstuffs North Island, New Zealand Food Innovation Network and Strategy Creative.
"FoodStarter is a fast-track journey with the goal of enabling long-term success to some of New Zealand's most innovative entrepreneurs and suppliers," says Marian Johnson, CEO of Ministry of Awesome. "Kaitahi As One exemplifies the spirit of the competition. It's an amazing example of innovation, sustainability and community enterprise, and it has been a privilege to have been able to share this journey into New World freezers with them. "
"We know New Zealanders, Kaitahi As One and everyone involved with FoodStarter is very excited to see what the future holds for them."
Entries for FoodStarter 2022 are now open
Entries are now open for FoodStarter 2022, the competition is a celebration of product innovation in New Zealand. Open to small suppliers to New World and entrepreneurs from across Aotearoa, this year the criteria for entry has been extended to encompass any local product that can be sold in a supermarket.
"I'm really excited to see what the next cohort of FoodStarter entrants bring to the table," said Chris Quin, Foodstuffs North Island CEO. "FoodStarter is an exciting and fast-growing community of innovative suppliers and we're very proud to be a part of supporting them to develop and grow. I would encourage all entrepreneurs with an innovative product to enter the competition, whether they're already a small supplier to New World, or just starting out. The support successful entrants receive from all the FoodStarter partners is absolutely second to none."
Visit newworld.co.nz/foodstarter complete the simple application form and start the journey.
Entries close on 6 February
FoodStarter categories are:
• Start-up – for businesses who aren't currently ranged with New World
• Small Suppliers with New World – for small suppliers who are ranged with New World
The amazing prize package includes:
• The opportunity for National ranging in the New World supermarket network across New Zealand
• Expert startup incubation programme provided by the start-up activation team at Ministry of Awesome
• Specialist Food & beverage sector R&D, development, and support with Food Innovation Network
• Design and marketing support from Strategy Creative
• Go to market, sell-in, and sell-through strategy support provided by Foodstuffs North Island and Foodstuffs South Island Merchandising Team
• Marketing & PR support provided by Foodstuffs Marketing & CX Team
• A fully paid for HQ for up to 4 team members for 12 months at Christchurch's Te Ohaka - Centre for Growth and Innovation (South Island) or GridAKL (North Island)
• Workshop with Socialites, 2019 Australasian Social Media Agency of the Year.
• Media Consulting Sessions with PHD Media.