New World New Lynn takes the cake and the 'Oscar' at this year's Foodstuffs North Island Co-op Awards
Tuesday, 14 December 2021
New World New Lynn has scored a hat-trick at this year's Foodstuffs North Island Annual Co-op awards, taking out best New World bakery, top New World Store and top overall store.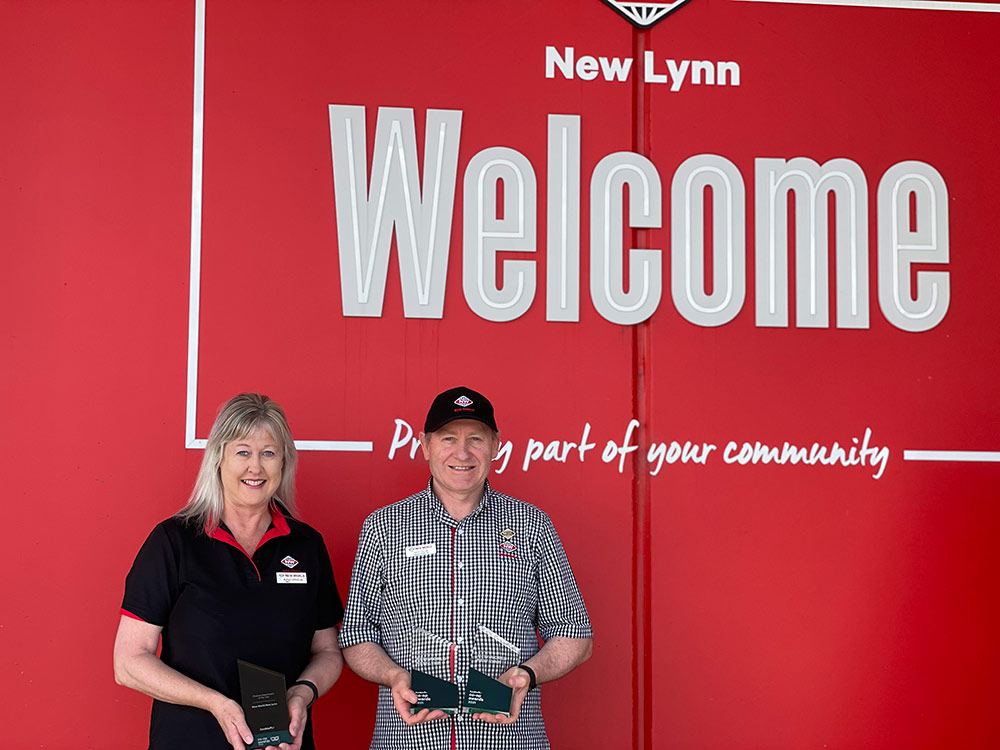 Andrea Campbell and David Cullen, Owner Operators at New World New Lynn
---
David Cullen, Owner Operator at New World New Lynn says the awards are a great recognition of the store team's dedication to providing excellent products range and quality, competitive prices and most importantly, unbeatable customer service.
"These awards belong to our outstanding team, as everyday they live and breathe our 'Think Customer' values."
"It just shows that every decision we make, is done to ensure we can provide our customers with an awesome shopping experience every time, so they really do get more of what matters to them from shopping with us."
The Co-operative Awards, which were held virtually, saw New World, PAK'nSAVE and Four Square stores across North Island competing in a friendly, yet hotly contested competition amongst the 100% New Zealand owned and operated North Island based co-operative.
Hosted by television personality Scotty Stevenson, David said that being virtual, the awards were different to the usual, and meant more of the team were able to join in the celebrations and excitement.
The New World New Lynn team organised catering from its deli, produce and award-winning bakery, as well as decorating the store's meeting room for their own in-store gala.
There were squeals of excitement and laughter from the team when the Head of New World, Morgan McCann and CEO Foodstuffs North Island, Chris Quin made a surprise visit to the store to hand over the awards in person.The New World New Lynn team took out Best New World bakery thanks to the "wow factor" of its bakery and the highly engaged and experienced team.Judges were impressed with the store's excellent range of high-quality offerings including fresh donuts and personalised celebration cakes baked instore.
David says it's the commitment to their customers that led the way to their best bakery award-win, having recently purchased a new donut machine to boost variety and choice for shoppers.
"Our bakery team is outstanding and always willing to go the extra mile for our customers. We're very lucky to have a fantastic cake maker and decorator who makes cakes for any occasion and provides an inspiring solution for customers."
David and his partner and co-owner Andrea have been with the co-operative for 19 years and say they love being a part of the wider Foodstuffs North Island team.
"It's such a huge honour and privilege to be part of such a fantastic co-operative where all the owner operators and their store, distribution, transport and support teams are totally focused on providing the best value, experience and solutions we can offer for our customers."
"Foodstuffs North Island is just like one big, huge family, there's 24,000 of us in North Island all dedicated to making sure our customers get more out life. As a Kiwi owned and operated business, we're so deeply part of the communities we have the privilege of operating in and we take a great sense of pride in that."
For David and Andrea, who've been committed to their role in the New Lynn community since taking up their role as owner operators in 2014, winning store of the year was "like winning an Oscar" says David,
"Just so very proud. We have a message written on our board in our meeting room that says 'We have come too far not to go further; We have done too much not to do more'."
He says it's this motto that ensures the team continues to strive to improve further. "Our customers need a lot from us in these challenging times and we're dedicated to putting them at the forefront of everything we do."