Pams extends plant-based range at New World to meet growing demand for meat-free options
Monday, 17 January 2022
Those participating in Veganuary, or who plan to eat more plant-based in 2022, now have even more food choices as Pams launches an extension to their plant-based range, which is available at New World.
A customer survey run by the Pams team in 2021 revealed nearly two-thirds of shoppers in New Zealand already limit their meat consumption at least once a week. Now shoppers who want convenient plant-based meals on the menu in 2022 can enjoy new additions to the Pams Plant Based line-up, which includes Spring Rolls, Curry Puffs, Money Bags, Cheese Balls and Tofu. These new options join Pams' well-established Plant Based range such as the delicious Thai Red Tofu Curry, Creamy Tomato Pasta Bake and Falafel Burger Patties. Those with a sweet tooth can enjoy Pams' Plant Based ice cream range, which is already proving to be a hit with shoppers.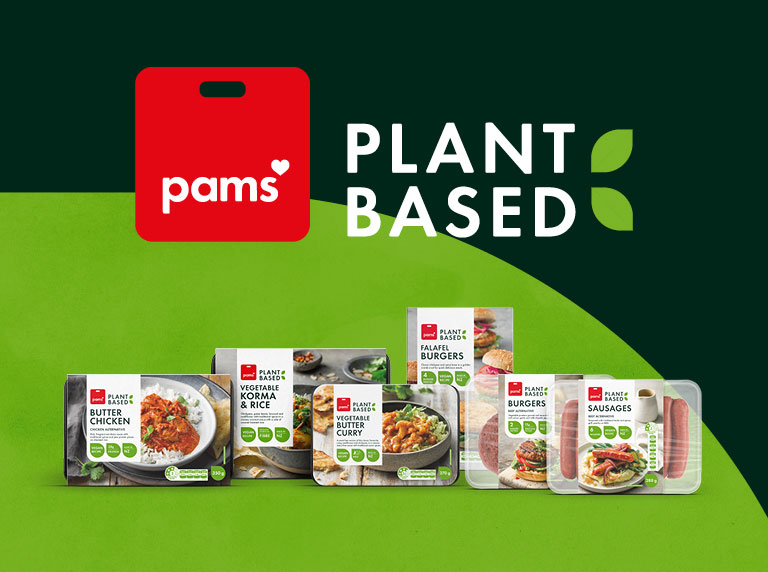 ---
Made primarily with plant proteins and using recipes containing no animal products whatsoever, the range is suitable for vegans, vegetarians and meat-eaters alike. Featuring meat and dairy alternatives, convenient meal solutions and delicious plant-based snacks, there are plenty of new options to try, no matter your dietary requirements.
Research conducted by Colmar Brunton revealed that health is the number one reason why New Zealanders choose to eat less meat*.
"New Zealanders are considering plant-based options more than ever before, so it's great to be able to anticipate this and offer new delicious choices for those wanting alternatives or more variety in their diet," says Lisa Oldershaw, General Manager of Foodstuffs Own Brands.
Pippa Prain, Head of New World Marketing & CX at Foodstuffs NZ, says "our customers have shown a real interest in eating less meat and we've seen searches for meat-free recipe inspiration on the rise on our website, so we're delighted to be able to offer this extension to the Pams' Plant Based range to provide even more convenient choices for New Zealanders in our stores."
There'll be even more options on the way soon as Pams is looking to extend the Plant Based range further in the near future.
For more information visit www.pams.co.nz/discover/pams-plant-based or your local New World store.
*Hungry For Plant-Based: New Zealand Consumer Insights, October 2019, Commissioned by Food Frontier & Life Health Foods, Research conducted by Colmar Brunton.