Addressing food poverty
Everyone in New Zealand should have access to healthy and affordable food. We're delighted to support organisations that are working hard to make this happen.
Social Supermarkets

A key focus of Foodstuffs North Island's Here for New Zealand Committee is working with community organisations to establish Social Supermarkets across the North Island.
The Social Supermarket puts personal choice and the shopper's dignity at the heart of their experience. The traditional food parcel model means families in need are often given a preprepared food package. At the Social Supermarket, shoppers select food and essential items of their choice. Taking a holistic approach, the Social Supermarket helps to address the root causes of food insecurity by connecting shoppers to additional services, like budgeting or family support within the wider community.
Foodstuffs to the (food) rescue
We're proud to support many wonderful organisations that are working hard to make healthy and affordable food accessible to everyone in New Zealand.
Over the past year alone, we've provided more than 6.1 million meals to Kiwis in need nationally through our food rescue partnerships. In the North Island, we provided more than 4.7 million meals.
Here's a snapshot of the food rescue organisations we support: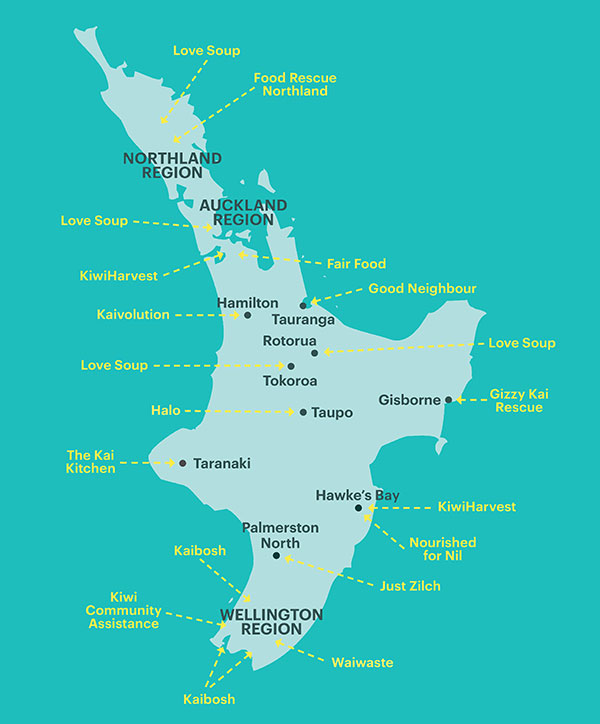 ---
The process of getting food into the hands of these organisations consists of two steps:
1. Stores set aside safe edible food they're unable to sell, as well as donations of food they've received from customers in their in-store drop-off boxes.
2. Stores then pass the donations on to their partner organisations, who provide food to Kiwis in need.
Partnering with food rescue organisations also lets us 'close the loop' and reduce the food waste we send to landfill.
The New World Family2Family Appeal
Many households struggle to put food on the table and rely on the City Missions and local food banks to feed their families. In many cases one or more family members are working, but they cannot afford to pay the bills and feed their family, especially in winter when household costs are higher.
We're proud to partner with the Auckland, Christchurch and Wellington City Missions and local food banks nationwide for New World's Family2Family Foodbank Appeal. During the campaign, New Zealanders pick up a special brown paper bag in-store, fill it with foodbank friendly items as they do their own shopping, and leave it in the donation box after they've paid. Food is then taken to local food banks, who distribute it to those who need it.
Our 2023 appeal saw over 23,000 bags donated to local food banks, thanks to our amazing customers, with New World contributing an additional $250,000!