FoodStarter 2022 winners take New Zealand food innovation to the next level
Tuesday, 19 July 2022
Two of New Zealand's most exciting FMCG entrepreneurs have won FoodStarter 2022, and a fast-tracked journey with industry mentors to a nationwide profile on New World shelves nationwide.
Following an intense final event at Grid AKL where the 10 finalists pitched their innovative products in front of a judging panel of industry leaders, Northland based Olive and Ash was announced winner in the Small Supplier Category and Nelson based, QB's Snacks triumphed in the Start-up Category.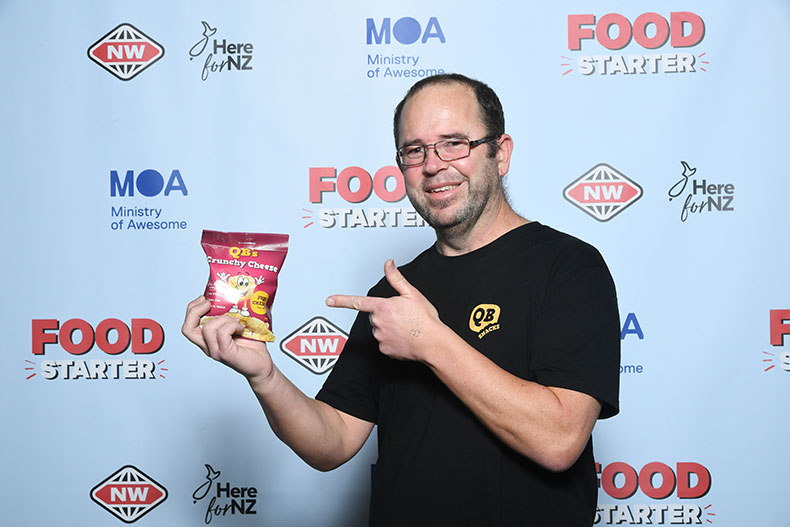 ---
Start-up Category – QB's Snacks, QB's Crunchy Cheese
A puffed up cheese snack made in Nelson from 100% New Zealand cheese with low sugar and gluten free.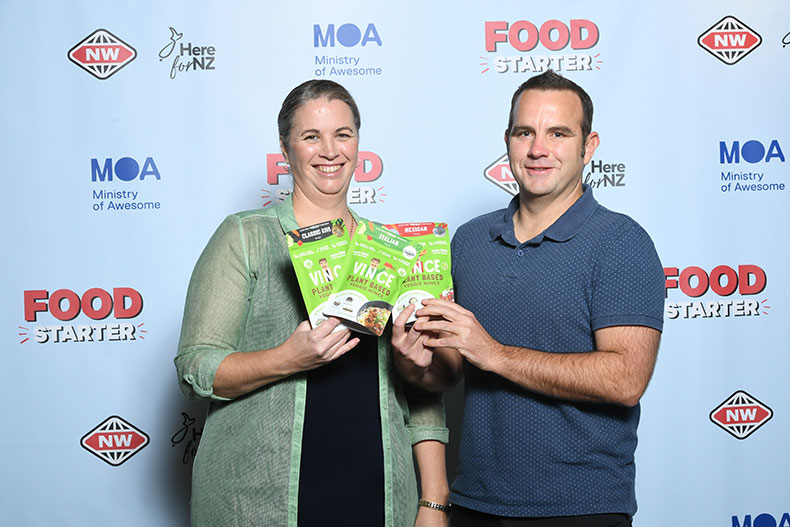 ---
New World Small Supplier Category
Olive & Ash, Vince- a plant-based vegetable mince, sourced and made in Northland with over 500g of real vegetables in every pack.
FoodStarter is a nationwide search led by New World and Christchurch based incubator, Ministry of Awesome supported by sponsors Food Innovation Network, Strategy Creative, Foodstuffs South Island, Foodstuffs North Island, Grid AKL, Socialites and PHD.
Graham Manson, owner and 'everything' from QB's says it's really exciting to be the winner of the Start-up Category, especially after watching the calibre of the other finalists who were pitching.
"To be a finalist was fantastic and every step of the FoodStarter process has been both intense and rewarding, everyone has been so supportive and we've enjoyed every minute. It was already so amazing to be in the finals and then to see the level of talent and innovation coming through from the other finalists, to hear your name as one of the winners was beyond comprehension, I was literally speechless, it still hasn't sunk in."
Graham's winning Crunchy Cheese Snack was created after he took up the Keto lifestyle and found shopping for suitable snacks was the downfall of an otherwise successful diet, so he decided to have a go at making his own.
After working with food technologists to get the recipe just right, Graham was able to create a delicious puffed-up snack made entirely from 100% New Zealand cheese. QB's Crunchy Cheese Snacks are also suitable for snackers looking for a low sugar and gluten free option.
Stephanie Browning New World Group Manager, Foodstuffs South Island and FoodStarter judge, says since the competition started three years ago, it's remained true to its vision to support New Zealand's food entrepreneur community and help ensure New World customers have access to the very best new products and latest in food trends.
"I can't wait to see these awesome products in our New World stores nationwide – it's fantastic to be offering our customers access to the country's leading food innovators, so they can have the best shopping experience with us."
Debbie Stowe from Olive & Ash says they came up with the idea for Vince, a vegetable mince, after their daughter was suffering from food allergies and the family needed to reduce the amount of meat they were eating.
"I missed the family beef mince favourites and went on a hunt for a tasty meat alternative, when I couldn't find one, I decided to use my chef skills to develop my own recipe. That was in 2019 - and since then we've been on real roller coaster journey, where we've taken Vince from concept, first making it in our kitchen - and then into production. "
"This win is truly going to be lifechanging. The support and guidance we'll be receiving from FoodStarter's experts is something that can't be valued. We're so honoured and can't wait to get going."
Browning says innovation is the cornerstone of a thriving grocery sector, and FoodStarter has developed into a unique ecosystem that support New Zealand's most innovative food and beverage entrepreneurs.
"The competition is one of the really cool ways we show our support for New Zealand's small suppliers and start-ups. With the support of our partners, FoodStarter is a fantastic display of the creativity, passion and quality of New Zealand's food and beverage entrepreneurs," she says.
Dale Stephens from Ministry of Awesome and FoodStarter judge says it's a really important competition for entrepreneurs and small businesses wanting to take the next step as an FMCG New Zealand-based business.
"A huge congratulations to all the finalists and to both our winners, we were so impressed with their vision and ingenuity. Whether it was looking after the planet, or motivated by looking after their family's health and wellness, all the products had a purpose and they all tasted great. "
Our team at Ministry of Awesome and all the FoodStarter partners are really excited to be working with such a great bunch of kiwi entrepreneurs, helping them to scale up to commercial excellence, so we can make them available to customers in every New World in the land," finishes Dale.