Four Square Te Mata Rises from the Ashes just in time for Christmas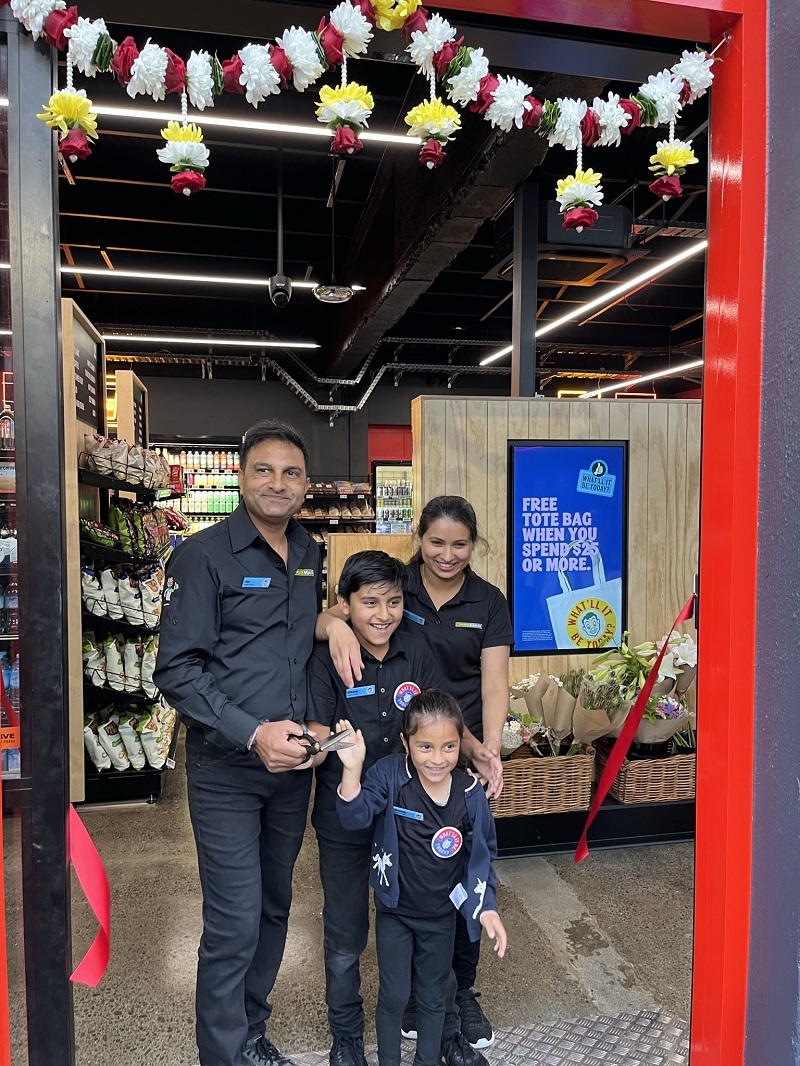 15 December 2022
Four Square Te Mata has risen from the ashes and re-opens today with the latest store design and a brand-new look and feel.
Locally owned and operated by Jayesh and Nilam Uka, the store suffered extensive fire damage in January 2022 forcing its closure for nearly 12 months. Now, the store has been reopened and re-designed to meet the needs of the Te Mata and Havelock North communities, with a focus on convenience and ease.
The new look Four Square Te Mata offers a wide range of everyday essentials, fresh meat & produce, a walk-in drinks chiller, a food to go range, meal solutions and two self-checkouts.
The Uka's took ownership of the store nearly 10 years ago but were left feeling shocked after a fire broke out on the roof back in January, forcing the store to close. Jayesh explains: "The fire came as a complete shock, but having owned the store for a long time, once we assessed the damage, we were quick to see the opportunity for a fresh start. We worked closely with the Foodstuffs North Island team to come up with an exciting new design that will see us well placed to serve the local community for many years to come!"
Growing up on the family farm, fresh produce runs in the blood for Jayesh: "My family has grown a range of crops over the years in Pukekohe and I've always had a love for farming. With people busier than ever, having a good range of fresh produce in store has become so important as people want to do a quick top up during the week, or grab ingredients for a home cooked meal. It's exciting to be able to serve locals a range of fresh produce and everyday essentials."
Jayesh says he's proud to be a part of such an iconic Kiwi brand and he's hoping to make life easier for Te Mata locals by providing a quick and convenient shop that can be done in just a few steps.
"With Christmas just around the corner, people are running around trying to get everything done so I'm really pleased to be able to open the store in time to offer our busy locals plenty of ready-to-go options, as well as a localised range that takes into account the things customers want to see on our shelves."
A popular summer stop, Four Square Te Mata is on the way to the local Hawkes Bay beaches and is a great destination for ice creams and cold drinks on a hot summer's day.
Jayesh remains grateful for the support from the community: "The support has made all the difference in keeping us positive and motivated to come back stronger. We've read all the comments on our Facebook page and understand people have missed their local Four Square. My family and I are very grateful for all the well wishes and interest in the new opening and now we can't wait to see you in store!"
David Gordon, Head of Four Square at Foodstuffs North Island, says it's fantastic to have Four Square Te Mata back up and running.
"Four Square has been serving local communities for over 98 years. The newly refurbished Te Mata store is a fantastic example of how we're transforming and evolving our Four Square stores to ensure we continue to bring a world class grocery experience to communities across the North Island."
Foodstuffs North Island is a cooperative of 350 grocers who own and operate their local New World, PAK'nSAVE and Four Square stores in communities around the North Island.
The store will employ 14 employees.
Four Square Te Mata is located at 171 Te Mata Road, Havelock North and will be open 7 days from 7am – 7pm.
For up-to-date information on the store and the opening day festivities, go to Four Square Te Mata's Facebook page: www.facebook.com/foursquaretematahavelocknorth/