Aotearoa's First of its Kind Social Supermarket Turns Two
10 May 2023



Aotearoa's first of its kind social supermarket, an initiative owned and operated by the Wellington City Mission and backed by Foodstuffs North Island, the co-operative behind New World, PAK'nSAVE and Four Square stores across the North Island, has turned two years old. The milestone is a testament to the ongoing success of the partnership and the positive impact the social supermarket is having in the local community.
Since its inception, the social supermarket has helped to address food insecurity in the Wellington region by being a place where shoppers are welcomed and treated with respect. Shoppers have a very normal experience with a consistent range of hundreds of different products, have the dignity of selecting whatever they need and want for themselves and their whanau, and there is no cost.
Wellington City Missioner, Murray Edridge explains: "Most of us can't even imagine what the experience of asking someone else for food must feel like. Food is amongst the most basic of our needs and acknowledging the inability to provide for oneself and one's whanau must take a toll on wellbeing and self-esteem."
"In the pursuit of providing the dignity of choice, two years ago we partnered with Foodstuffs North Island to open New Zealand's first of its kind, Social Supermarket. We now have 25 New World stores from across Wellington helping keep us going by providing product and operational support. This ensures that in many ways, our shoppers are experiencing the normality that most people take for granted - of choosing for ourselves. There's dignity in that normality. We're so pleased to celebrate this two-year milestone and look forward to continuing to work with our New World buddy stores to make a real difference in the lives of our community members."
Commenting on the milestone, Foodstuffs North Island Head of Membership Excellence, Willa Hand, said: "We're incredibly proud of our partnership with Wellington City Mission, and the success of the social supermarket over the past two years. This initiative is a shining example of how our co-operative of local stores and community organisations can work together to make a positive impact on the lives of those in need."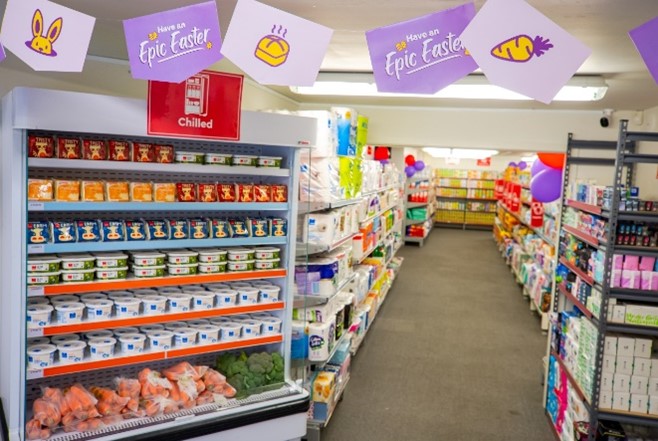 Over the past two years, the partnership between the Wellington City Mission and Foodstuffs North Island has resulted in significant positive outcomes for the community. The social supermarket has enabled members of the community to complete over 6,000 shops, providing much-needed support to those who are struggling.
Wellington City Mission and Foodstuffs North Island are committed to continuing their partnership and expanding the reach of the social supermarket to help even more people in need. The success of the social supermarket model demonstrates the power of collaboration and the positive impact that can be achieved when businesses and community organisations come together to address social challenges.
Wellington City Mission's Social Supermarket is partnered with New World Newtown who provide ongoing support to keep the Wellington City Mission shelves fully stocked with a consistent range
Mark Troup-Paul, Owner Operator of New World Newtown said: "It's an absolute privilege to be able to support our local social supermarket which is making a real difference in the local community. There's nothing better than knowing we're giving back to the community and helping those who can't shop in our stores right now."
The social supermarket programme is part of Foodstuffs' commitment to be 'Here for NZ', delivering on its four promises to support every New Zealander to access healthy and affordable food, create meaningful work for its people, support local communities to thrive and lead on sustainability in its operations and how it sources its products. Last year, the co-op announced plans to partner with community organisations to open many more social supermarkets across the motu.
About Foodstuffs North Island (FSNI) 
Foodstuffs North Island is a 100% New Zealand owned co-operative, with 323 owner operated stores in communities across Te Ika-a-Māui operating under the Four Square, New World, PAK'nSAVE, and Gilmours brands. With 2.7 million customer visits in our stores and online every week and 24,000 Foodies across the North Island, we play a big role in Kiwis' lives. Our purpose is to make sure New Zealanders get more out of life and we aspire to be one of the most customer driven retailers in the world. You can learn more about our broader Social Supermarkets programme here.