Brand-New Four Square Opens for Business in Te Kowhai
18 May 2023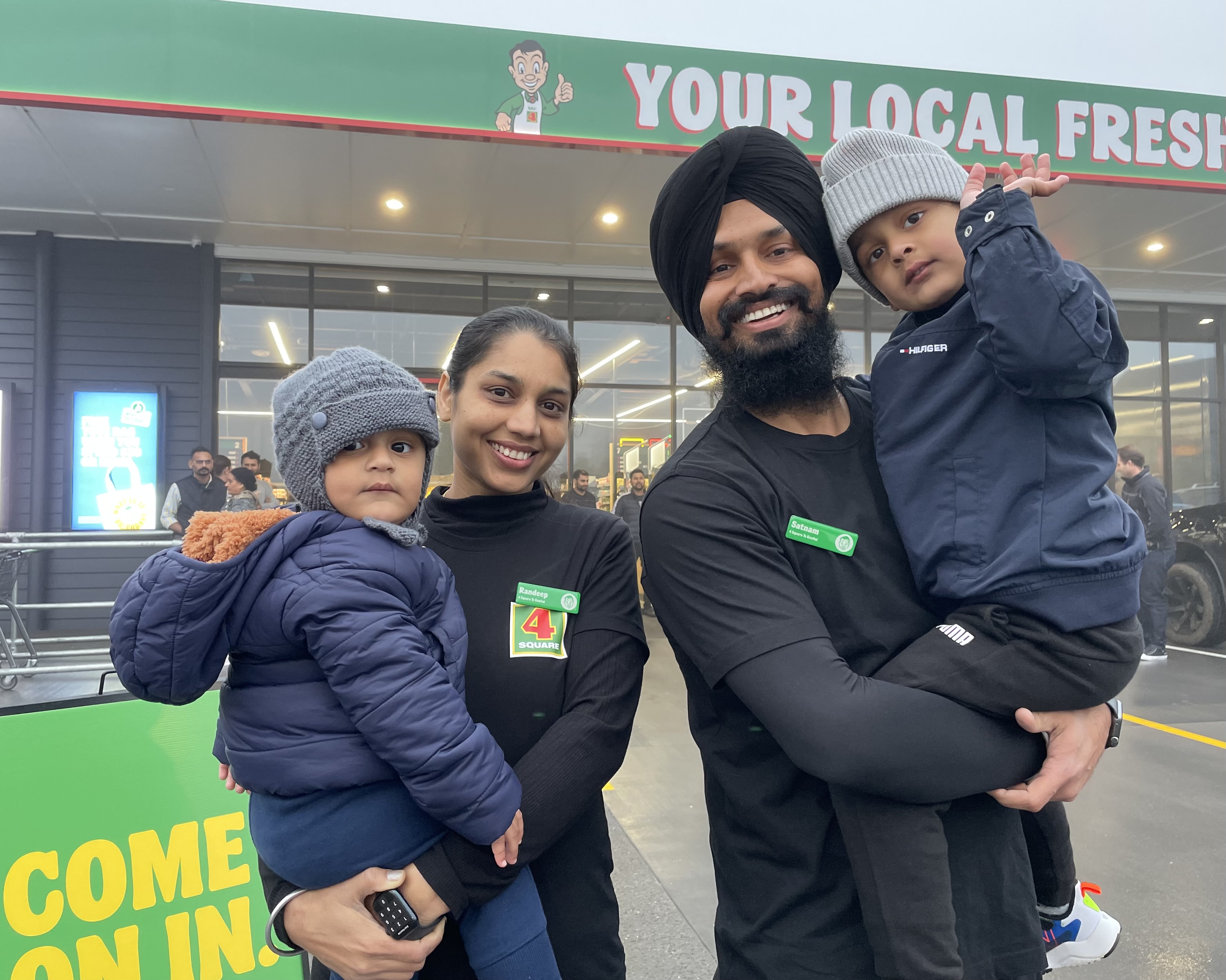 Operated by first time owners Satnam and Randeep Kang

Latest design and offer

450 square metres of retail space

11 new jobs created
3,800+ products available

Two self-checkouts and three team member operated checkouts

20+ car parks for the complex

$2.5m dollar investment in the local community

$100m investment by Foodstuffs in building and transforming co-op stores each year
Foodstuffs North Island is pleased to announce the opening of the brand-new Four-Square Te Kowhai, in rural Waikato. Featuring the latest designs and innovations, the store is operated by first time owners, Satnam and Randeep Kang.
Designed to meet the needs of the Te Kowhai community, there's a focus on convenience and ease with the new store offering a wide range of essentials, fresh foods, self-checkouts, along with a great range of convenient meal solutions including barista-made Flight coffee and food-to-go options including fresh sandwiches, Goodtime Pies, chicken and chips and hot cooked chicken.
Located at 561 Horotiu Road, Four Square Te Kowhai will provide a convenient shopping option for residents and visitors to the area. The store is approximately 450 square meters in size and stocks over 3,800 products located over 12 aisles. The store also has two self-checkouts, three team member operated checkouts and 20+ car parks across the development.
First time owner operator Satnam Kang started his journey with Foodstuffs North Island, the co-op behind the PAK'nSAVE, New World and Four Square brands in 2009, joining the produce department of New World Botany where he spent seven years in a range of roles, before moving on to New World Whangaparaoa and later, PAK'nSAVE Papakura.
Satnam says: "I'm really excited to be serving the Te Kowhai community. It's a great town that's seeing a lot of growth, and this next generation Four Square is going to bring a new level of convenience to town – life's about to get a lot easier for locals! We've got a great range of products and a strong café offering which means people won't have to drive out of town anymore to stock up on the essentials. Having been around the local kindergarten, school, and retirement home, I know everyone is very excited."
The new store has created 11 jobs for the local community and represents a $2.5 million dollar investment in the area.
David Gordon, Head of Four Square at Foodstuffs North Island, says he's excited to have Four Square join the Te Kowhai community and also support Satnam and Randeep as local business owners: "Four Square Te Kowhai is another fantastic example of how our iconic Kiwi brand continues to evolve. We've been serving local communities since 1924 and have a big focus on transforming our offer in order to continue bringing a world class grocery experience to communities right across the North Island."
Foodstuffs North Island is a co-operative of 350 grocers who own and operate their local New World, PAK'nSAVE and Four Square stores in communities around the North Island.
Four Square Te Kowhai is located at 561 Horotiu Road, Te Kowhai and will be open 7 days from 7am – 8pm.
For up-to-date information on the store, go to Four Square Te Kowhai's Facebook page: https://www.facebook.com/4SquareTeKowhai/