Eden Terrace gets Brand New Four Square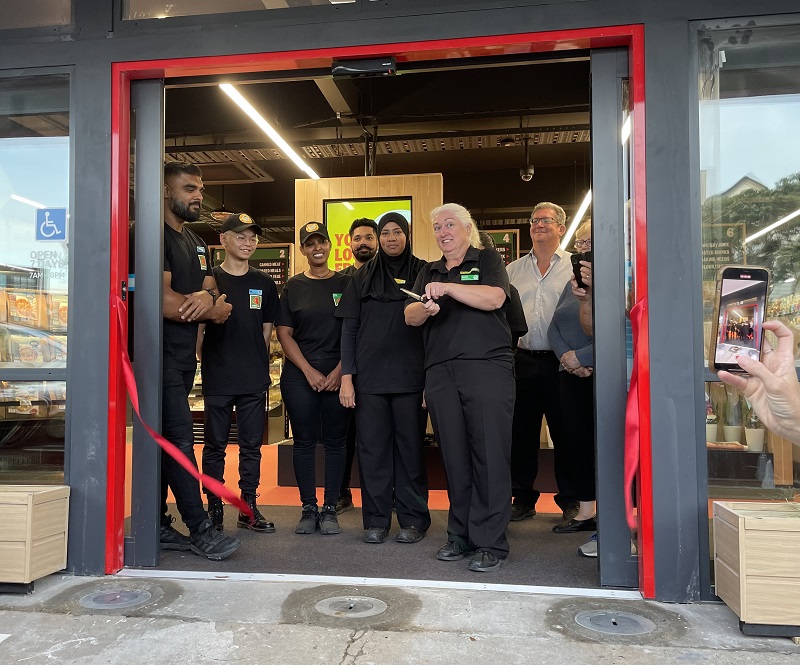 Four Square owner Rachel Kennedy, officially opens Four Square Eden Terrace
315 square metres of retail space

Nine new jobs created

Four self-checkouts

$100m investment by Foodstuffs in building and transforming co-op stores each year
A brand-new Four Square has opened today in Eden Terrace with the latest store design and innovations.
Locally owned and operated by owner Rachel Kennedy, the store has been designed to meet the needs of the Eden Terrace community, with a focus on convenience and ease.
Four Square Eden Terrace offers a wide range of essentials, fresh foods, self-checkouts, along with a great range of convenient meal solutions including sushi, croissants, barista-made Flight Coffee and food-to-go options from premium bakers, Daily Bread.
This is Kennedy's second Four Square, having previously owned and operated Four Square Paeroa. A fourth-generation grocer with experience running cafés and working as a chef Rachel says: "Growing up I was surrounded by supermarkets and grocer-talk. I decided to start my career by training as a chef, before owning and operating three cafes in West Auckland and then getting into the grocery industry. Ahead of opening day I've been combining my foodservice and grocery experience to help deliver an exciting new offer for the Eden Terrace community. We've got a great mix of grocery products, café items and food to go which will appeal to the people of Eden Terrace."
Kennedy says she enjoys being a part of the 99-year-old iconic Kiwi brand and hopes to improve the lives of busy Eden Terrace locals by providing a quick shop that can be done in less than 200 steps.
"Eden Terrace is where I've spent a lot of my life and I've watched the area change over the years. A lot of young professionals, city workers and apartment dwellers call Eden Terrace home - people who lead busy lives and place a lot of emphasis on convenience."
"Our new store is lovely. It's a long and narrow format with short aisles which makes products easier to find. It's essentially a café in the middle of a modern convenience store. We've got pastries and bread from Daily Bread, sandwiches from Dedwood Deli, Flight Coffee, Good Time Pies, salads and single cakes. For the afternoon and evening we've got some great premium quality heat and eat meals like salmon & potato gratin and chicken & chips. You can even get a nice bottle of wine or a craft beer to unwind at the end of the day."
Located next to the Mt Eden train station which is being fully redeveloped and scheduled to open next year, means Four Square Eden Terrace has a bright future.
David Gordon, Head of Four Square at Foodstuffs North Island, says it's exciting to welcome Rachel to Four Square Eden Terrace.
"Four Square Eden Terrace is a fantastic example of how Four Square continues to evolve. We've been serving local communities for 99 years and are transforming our offer to continue bringing a world class grocery experience to communities across the North Island."
Foodstuffs North Island is a cooperative of 350 grocers who own and operate their local New World, PAK'nSAVE and Four Square stores in communities around the North Island.
Four Square Eden Terrace is located at 22 New North Road, Eden Terrace, Auckland 1021 and will be open 7 days from 7am – 8pm.