Food sector still facing complex challenges – pace of cost increases moderating, but a long road to tame record inflation
13 July 2023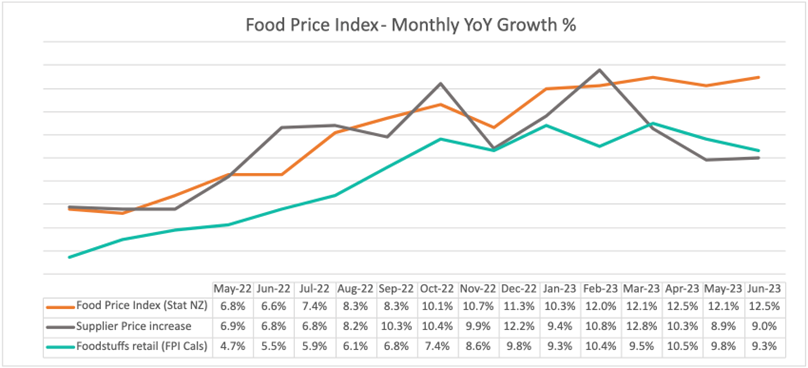 Foodstuffs analysis against FPI data (May 2022 – June 2023)


The numbers:
Stats NZ Food Price Index (FPI) shows food prices increased 12.5% for June 2023 compared to a year ago.

In June 2023, the average product cost increase from suppliers to the Foodstuffs co-operatives on the same product categories measured in the FPI basket was 9.0%.

On the same product categories, the retail price increase from stores to Foodstuffs customers was 9.3% in June (down from 9.8% in May).

This month's Infometrics-Foodstuffs New Zealand Grocery Supplier Cost Index shows overall cost increase

s from grocery suppliers to supermarkets

up 8.3%pa in June (this is across over 60,000 products Foodstuffs buys to stock in store).
Statistics New Zealand's Food Price Index (FPI) shows food prices increased 12.5% for June 2023 compared to a year ago.
"The food sector is still facing complex challenges as a result of record inflation, but the pace and intensity of rising costs that our growers, manufacturers, and retailers have been seeing is starting to show some signs of easing," says Foodstuffs NZ Managing Director, Chris Quin.
Commenting on the latest food price inflation figures released by Statistics New Zealand today, Quin says after the supply shocks of early 2020, record levels of cost increases are beginning to moderate but it will take time for this to flow through to customers.
"The inflation battle is far from over. Our two co-operatives remain focused on buying well and running our businesses as efficiently as possible so our local grocers can deliver the best value for our customers at the checkout.
"This remains our number one focus. The economic forecasts all point to the resilience of some of the underlying pressures and factors that are driving inflation, and they will be tough to shift. That means the remainder of 2023 will continue to be challenging for New Zealand businesses and consumers."
On the shop floor, customers can find value by shopping seasonally, and canned and frozen goods continue to offer value and consistent pricing for customers.
Green vegetables like broccoli were in strong supply in June and offered good value. Through June, mandarins were down 2.3% pa, cucumbers were down 15.8% pa, and white button mushrooms were down 2.2% pa. New season avocado is also dropping in price as supply picks up.
Customers surveyed as part of Foodstuffs' quarterly Customer Insights research say they are cutting back on non-essentials (59%), buying fewer items (43%), sticking to a budget (35%) and shopping around for the best deals (40%). With a slow economic recovery predicted, the way customers are shopping now to stretch their budgets further will continue for longer.
Over the next 12 months, 48% of mortgage debt will come off a fixed rate (26% within the next six months) and 54% of customers anticipate this having a large financial impact on their finances.
"It's a really tough winter for New Zealanders working through the hard economic realities of a recession, and the cost of groceries remains the biggest concern. It's something all of our grocers are very aware of right across the country," says Quin.
This month's Infometrics-Foodstuffs New Zealand Grocery Supplier Cost Index showed over 4,000 items increased in cost in June 2023, about two and a half times the number in June 2020. The latest result is still one of the top 20 months for the highest number of items increasing in cost.
"We're seeing the impact of record input cost pressures still making their way through the supply chain. Raw materials, freight and wages remain the largest contributors to cost increases for suppliers, and our co-operatives are battling many of these same cost pressures," says Quin.
"The sustained level of supplier cost increases and other additional underlying cost pressures has meant we've come in slightly above supplier cost increases on the same product categories measured in the FPI basket this month."
Shipping remains a challenge. The supply chains are slowly returning to normal after the pandemic but while 'per container' shipping costs dropped by 32% in May compared with the previous year, they remain 86% higher than in May 2019. Container usage costs have also eased year on year, but they are still significantly higher compared to May 2020.
Diesel prices have been stable for the last six weeks, but the end of the Government's fuel subsidy on 30 June will impact prices in the coming months. The ongoing wet weather is continuing to cause slips, road closures and detours in multiple eastern and northern areas, which is making it challenging to get supplies into some stores.
"The supply of lettuce and leafy greens is also impacted by the weather, and it's likely that prices will remain high for the foreseeable future. Kumara is also in short supply and prices are high as a result (up 168% pa)," says Quin.
"Supply side shock factors that initially spiked food price inflation are moderating but the underlying causes of domestic inflation will make the fight tougher for longer. Domestically, wild weather is still proving to be one of the major challenges for growers.
"What we're seeing in the major overseas grocery markets is a similar battle to overcome 'sticky inflation'.
"A joined-up effort is needed to address the underlying drivers of domestic inflation to ultimately ease the record pressure on households. We are clear on the role we have to play to help our grocers deliver value at the checkout and we hold ourselves to account both internally and externally."