Foodstuffs North Island Joins Auckland City Mission's Cook-Off to Support Families in Need
24 July 2023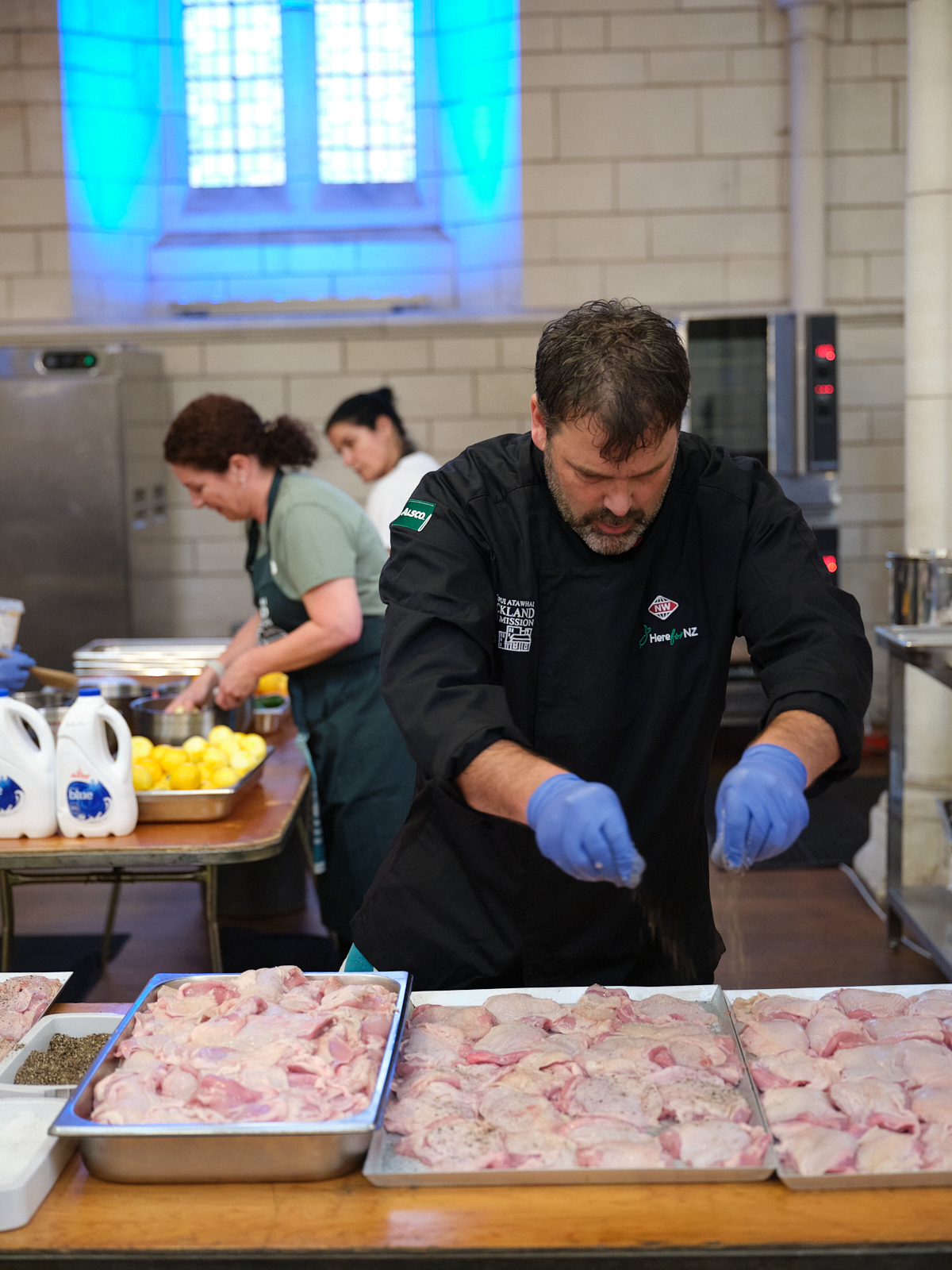 Foodstuffs North Island, the 100% Kiwi owned co-operative behind PAK'nSAVE, New World and Four Square supermarkets in the North Island recently demonstrated its commitment to giving back to the community by participating in the Auckland City Mission – Te Tāpui Atawhai Cook-Off, which brings together business leaders and top chefs to give back to the community through a special evening of good food and great company.
Morgan McCann, Head of New World for Foodstuffs North Island, and Steve McClean, Owner Operator of New World Orewa, took on the challenge of cooking a three-course dinner for 150 guests of the Mission. The event which was held at St Matthew-in-the-City, aimed to support individuals experiencing homelessness or struggling to put food on the table.
Inspired by New World's recent Family2Family campaign, which saw New World supermarkets and customers right across the country supporting their local City Mission or foodbank, Morgan and Steve accepted the challenge and worked alongside renowned chefs Petra Galler, Michael Meredith and Mike Van de Elzen to craft meals that were served to the event's guests.
Reflecting on the experience, Morgan McCann said: "Our co-op has made a commitment to be here for New Zealanders by helping our local communities to thrive. I enjoy cooking but had never cooked for 150 people before. It was a bit daunting, but we received excellent coaching and by the end of the night, I'd gained a newfound appreciation for the hard work chefs put in. It was an amazing experience, and I'm delighted to support such a worthy cause. The Auckland City Mission provides crucial assistance to individuals and families right across Auckland."
Steve McClean, Owner Operator of New World Orewa, who has prior experience cooking for large groups, including youth camps, shared his perspective on the event, saying: "I love giving back and supporting the local community, so this opportunity was right up my alley. St Matthew-in-the-City is an incredible venue, the food was exceptional, and the experience was truly humbling."
With overwhelming support from across the Foodstuffs co-operative and wider community, collectively Morgan and Steve raised over $57,000 for the Auckland City Mission. In total the Cook Off raised $246,000.
"The Mission can only help people in greatest need with the support of our community. Morgan and Steve's commitment to raising funds through the Cook Off, as well as their ongoing support of the Mission, is absolutely outstanding. I'm so grateful to the two of them for stepping up to help in this way," says Missioner Helen Robinson.
Foodstuffs North Island has made a commitment to be 'Here for NZ' by making four social promises:

We support every New Zealander to access healthy and affordable food.

We create meaningful and safe work for our people.

We support our local communities to thrive.

We are sustainability leaders in our operations and how we source our products.
Supporting initiatives like the Auckland City Mission – Te Tāpui Atawhai Cook-Off is one of the many ways the co-op and its people bring to life these promises.