Foodstuffs North Island Supports Visionwest's Second Annual 'Giving Day' with $25,000 Pledge
3 August 2023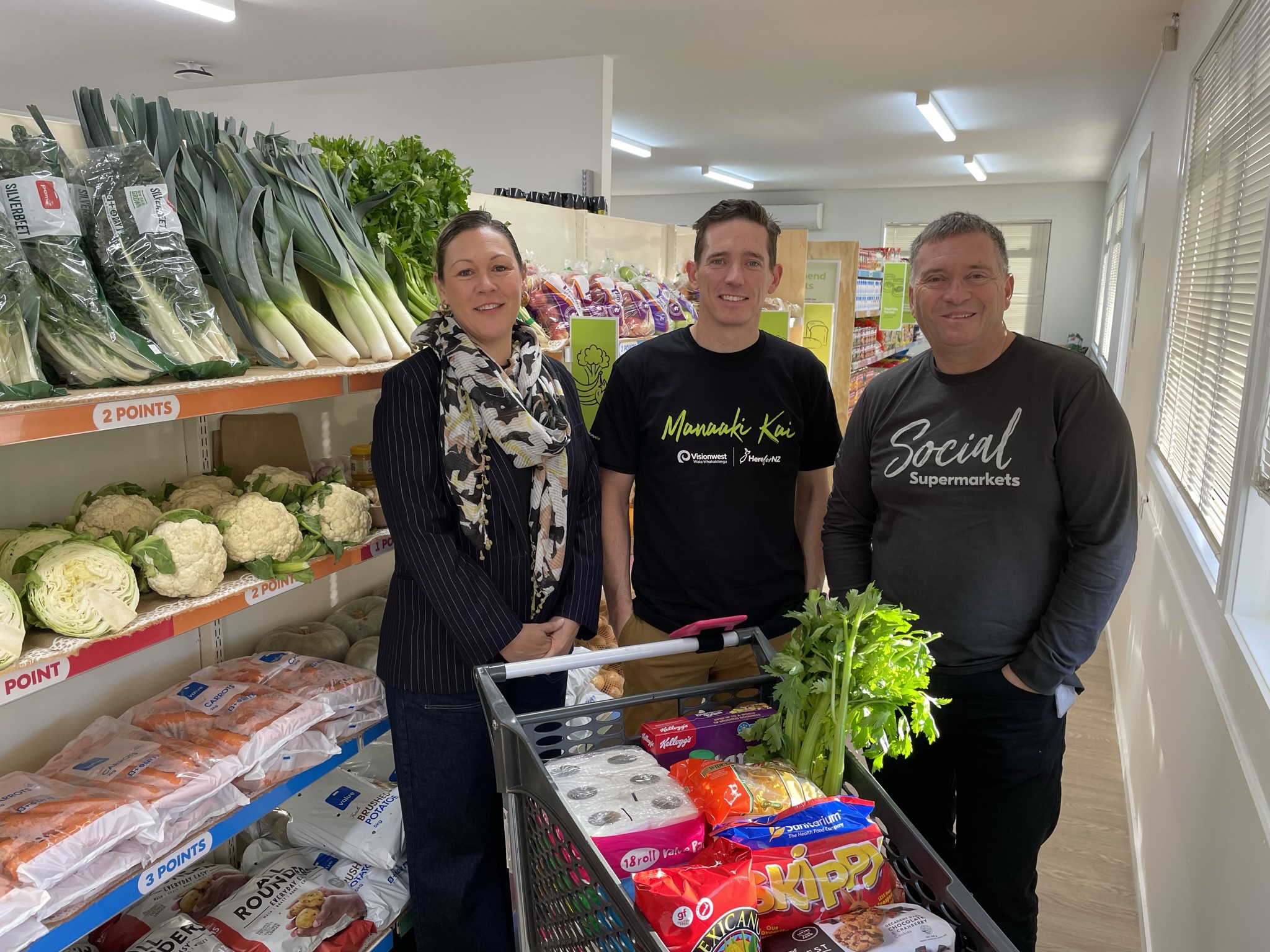 Willa Hand and Chris Quin from Foodstuffs North Island, with Nathan May (centre) from Visionwest

Foodstuffs North Island, the 100% Kiwi owned co-operative behind PAK'nSAVE, New World and Four Square supermarkets in the North Island demonstrated its ongoing support of local communities by pledging $25,000 to Visionwest for their second annual 'Giving Day.' The Giving Day, which took place on Tuesday, 25 July, had the aim of promoting generosity, and saw every financial donation made to Visionwest on the day being matched.
"We're rapt to continue growing our partnership with Visionwest and contribute to their Giving Day initiative," says Willa Hand, Head of Membership Experience for Foodstuffs North Island. "Our co-operative, which is made up of grocers who own and operate their local stores right across the motu, has made a commitment to being 'Here for NZ' which includes a promise to provide healthy and affordable food and empowering our local communities to thrive. Supporting Visionwest is a great way for us to make a real difference in West Auckland."
Last month, Foodstuffs North Island collaborated with Glen Eden based Visionwest to launch Manaaki Kai, the first social supermarket of its kind in Tāmaki Makaurau. Manaaki Kai has already made a significant impact on the community. In just one month, almost 230 shoppers have visited, providing nourishment to nearly 850 individuals and distributing over $35,000 worth of food. Visionwest's food parcel service continues to supply up to 400 food parcels per week to those facing food insecurity.
Nathan May, General Manager of Community Services at Visionwest recalls last year's successful Giving Day, which focused on providing gifts for children during Christmas. This year, the goal is to "turn hunger into hope" by providing essential food support to the community, especially during the cold winter months when families seek comfort and warmth through nourishing meals.
"Giving Day this year saw Kiwis coming together to contribute $71,910 which is going to make such a difference to our community. We're deeply grateful for the support from Foodstuffs North Island," says Nathan May. "Every dollar donated during Giving Day will directly contribute to alleviating hunger and bringing hope to those who might otherwise go without. Together, we can make a significant difference in the lives of individuals and families facing food insecurity."
Visionwest's Giving Day ran from 10:00 AM on Tuesday, 25 July to 10:00 AM on Wednesday, 26 July. Supporters can still help struggling families this winter by making their contributions through the Visionwest website www.visionwest.org.nz/donate