Foodstuffs North Island celebrates locally owned store success at annual Co-op Awards with new awards added to the mix
15 August 2023
Foodstuffs North Island CE Chris Quin at the 2023 Co-op Awards
Foodstuffs North Island celebrated the outstanding achievements across the co-operative's PAK'nSAVE, New World, Four Square and Gilmours supermarkets at its annual Co-op Awards, held last week at Auckland's Viaduct Event Centre.
Now in its 8th year, the Foodstuffs North Island Co-op Awards recognise the organisation's highest performing people and stores, with 22 awards across six categories, including Store of the Year, Customer Promises, Partner of the Year, New in Brand, Here for NZ and the Co-operative Spirit award.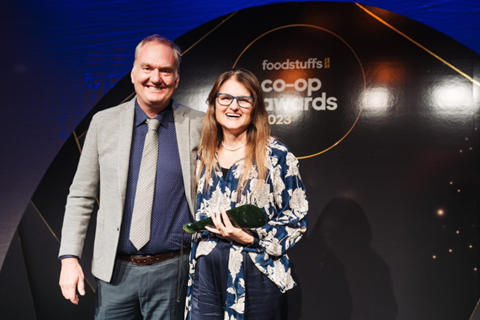 Kym Samuels, Co-Op Spirit award winner is with Foodstuffs North Island Board Chairman Dean Waddell
This year the awards have been refreshed with pinnacle customer focused awards like Store of the Year and the Co-op Spirit Award retained, and new ones introduced including Customer Promises and Here for NZ, which Foodstuffs North Island CE Chris Quin says more closely aligns to the co-operative's customer and community driven focus.
"Our aspiration is to become one of the most customer driven retailers in the world, so we wanted to make sure our Co-op Awards reflect and celebrate this. Building our customer promises into our awards means we can recognise our stores who go over and above to give their customers great value, experiences, and awesome solutions every time they shop with us," he says.
The Here for NZ award focuses on how stores are delivering the co-operative's social promises, including making sure New Zealanders have access to healthy and affordable food, sustainability leadership, meaningful and safe work, and local community support.
"It's a privilege to trade in our communities, and a responsibility to be here for New Zealand so it's important our Co-op Awards reflect this too," says Chris.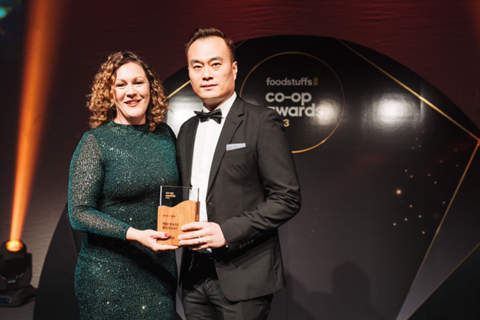 Here for NZ award: New WorldSouthmall's Lin Guo is with Foodstuffs North Island's Willa Hand, Head of Membership Experience
This year's Here for NZ winner, Lin Guo and the team at New World Southmall have a strong track record of delivering for both their customers and their team.
"New World Southmall are huge supporters of many community groups in their area as well as their local social supermarket programme. They lead the way in sustainability with a zero-waste policy which ensures usable food can be passed to foodbanks and food rescue organisations," Chris says.
The awards have strict judging criteria and are measured using scorecards, along with mystery shopping and customer engagement, reviewed by a panel of experts to ensure there's a clear methodology to determine winners.
Chris says it's a very difficult process given the outstanding efforts so many owners and their teams put in every day of the year to deliver for Foodstuffs North Island customers.
"The standard for these awards and the calibre of our finalists was incredibly high. My congratulations go out to all our finalists and award winners this year who have put in such hard work and heart into delivering a superb experience for our customers and communities, you should all be immensely proud," he says.
Congratulations to all of the finalists and winners
| | | | |
| --- | --- | --- | --- |
| Award Category | Finalists | Winner | Owner operator |
| Here for NZ Award | 4 Square Parakai | New World Southmall | Lin Guo |
| | New World Southmall | | |
| | PAK'nSAVE Thames | | |
| | New World Aokautere | | |
| Customer Promises - Gilmours | | | |
| Have What I Need | Gilmours North Shore | Gilmours Central | Peter Blackwell |
| | Gilmours Central | | |
| | Gilmours Mt Roskill | | |
| Easy Every Time | Gilmours Tauranga | Gilmours Mt Roskill | Aaron Kedzlie |
| | Gilmours Wellington | | |
| | Gilmours Mt Roskill | | |
| Fair Value I Can Trust | Gilmours Tauranga | Gilmours Manukau | Dayne Riddell |
| | Gilmours Hamilton | | |
| | Gilmours Manukau | | |
| Customer Promises - 4 Square | | | |
| Fresh Faves | 4 Square Wainui Road | 4 Square Mangawhai Heads | Hamish Townsend |
| | 4 Square Russell | | |
| | 4 Square Mangawhai Heads | | |
| | 4 Square Kaiwaka | | |
| Local Service | 4 Square Ngongotahā | 4 Square Kaiwaka | Ant Pedersen |
| | 4 Square Coromandel | | |
| | 4 Square Kaiwaka | | |
| Everyday Essentials | 4 Square Ngongotahā | Note two equal winners | |
| | 4 Square Wainui Road | 4 Square Martinborough | Conor Kershaw |
| | 4 Square Parakai | 4 Square Ngongotahā | Grant Plummer |
| | 4 Square Martinborough | | |
| | 4 Square Raglan | | |
| Customer Promises - New World | | | |
| Inspiring Solutions | New World Whakatāne | New World Whakatāne | Jeremy Bennett |
| | New World Papakura | | |
| | New World Long Bay | | |
| | New World Gate Pā | | |
| | New World Merrilands | | |
| Awesome Experience | New World Whakatāne | New World Rototuna | Suresh Chiminlal |
| | New World Rototuna | | |
| | New World Pioneer | | |
| | New World Gate Pā | | |
| | New World Long Bay | | |
| Fair Value Everyday | New World Rototuna | New World Whanganui | Adrian Rees |
| | New World Pioneer | | |
| | New World Whakatāne | | |
| | New World Whanganui | | |
| | New World Gate Pā | | |
| Customer Promises - PNS | | | |
| Fresh As | PAK'nSAVE Te Awamutu | PAK'nSAVE Pukekohe | Nigel Ollett |
| | PAK'nSAVE Lower Hutt | | |
| | PAK'nSAVE Whanganui | | |
| | PAK'nSAVE Pukekohe | | |
| | PAK'nSAVE Westgate | | |
| Sweet As | PAK'nSAVE Lincoln North | PAK'nSAVE Lower Hutt | Karl Marryatt |
| | PAK'nSAVE Westgate | | |
| | PAK'nSAVE Te Awamutu | | |
| | PAK'nSAVE Hāwera | | |
| | PAK'nSAVE Lower Hutt | | |
| Cheap As | PAK'nSAVE Wairau Road | PAK'nSAVE Wairau Road | Quintin Proctor |
| | PAK'nSAVE Lower Hutt | | |
| | PAK'nSAVE Henderson | | |
| | PAK'nSAVE Lincoln North | | |
| | PAK'nSAVE Westgate | | |
| Partner of the Year Award | Amanda Hayes, Own Brands | David Gordon, Membership & Property | |
| | Amber Anderson, Membership & Property | | |
| | Ann Warwick, Merchandise | | |
| | David Boerson, Membership & Property | | |
| | David Gordon, Membership & Property | | |
| | Jarren Fuller-Kaye, Membership & Property | | |
| | Joan Verhoeven, Commercial Operations | | |
| | Jocelyn McCallum, Merchandise | | |
| | John Holmes, Supply Chain | | |
| | Josh Hobbs, Membership & Property | | |
| | Maria Simpson, Membership & Property | | |
| | Michelle Gibbs, Legal | | |
| | Noreen Cody, Commercial Operations | | |
| | Paul Beyer, Membership & Property | | |
| | Simon Henley, Membership & Property | | |
| | Operations Team, Supply Chain | | |
| New in Brand | | | |
| New Owner in Brand - 4 Square | Stacey Huston, 4 Square St Heliers | James Crawshaw, 4 Square Hokowhitu | |
| | Sam Waddell, 4 Square Hillcrest | | |
| | James Crawshaw, 4 Square Hokowhitu | | |
| New Owner in Brand - New World | Damian Langley, New World Warkworth | Damian Langley, New World Warkworth | |
| | Scott Henderson, New World Mangawhai | | |
| | Fletcher Bellamy, New World Pahiatua | | |
| New Owner in Brand - PAK'n'SAVE | Chris Lamont, PAK'nSAVE Kāpiti | Aaron Scanes, PAK'nSAVE Glen Innes | |
| | Aaron Scanes, PAK'nSAVE Glen Innes | | |
| | Amanda Elliot, PAK'nSAVE Rotorua | | |
| Store of the Year Awards | | | |
| Wholesaler of the Year - Gilmours | Gilmours Wellington | Gilmours Mt Roskill | Aaron Kedzlie |
| | Gilmours Mt Roskill | | |
| | Gilmours Hamilton | | |
| Store of the Year - 4 Square | 4 Square Wainui Road | 4 Square Papamoa Beach | Nick Gordon |
| | 4 Square Papamoa Beach | | |
| | 4 Square Martinborough | | |
| | 4 Square Balmoral | | |
| | 4 Square Raglan | | |
| Store of the Year - New World | New World Whakatāne | New World Whakatāne | Jeremy Bennett |
| | New World Gate Pā | | |
| | New World Rototuna | | |
| | New World Papakura | | |
| | New World Whitby | | |
| Store of the Year - PNS | PAK'nSAVE Wairau Road | PAK'nSAVE Pukekohe | Nigel Ollett |
| | PAK'nSAVE Pukekohe | | |
| | PAK'nSAVE Mt Albert | | |
| | PAK'nSAVE Kāpiti | | |
| | PAK'nSAVE Upper Hutt | | |
| Co-op Spirit Award | | | |
| | | Kym Samuels, New World Morrinsville | |