Foodstuffs brings home the sausage
20 October 2023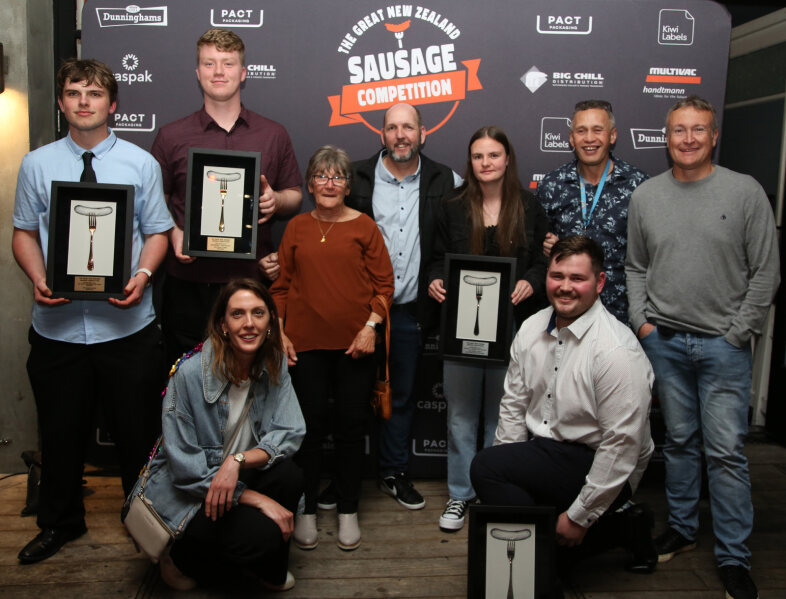 The New World Te Rapa team can't keep the smiles off their faces after taking home 4 medals for their in-store sausages
(L-R: Kurtis Large, Zac Simpson, Dot Podjursky, Richard Jeffcoat, Libby Griffin, Mike Coffey, Antony Russel; Bottom: Alex Russel and Nicolas Jeffcoat)
Fire up the barbeque and get ready for a sizzling summer!
Across Aotearoa, Foodstuffs supermarkets have once again earned their reputation as the go-to destination for top quality sausages, taking home a whopping 20 medals at the Great New Zealand Sausage Competition 2023.
Hosted by Retail Meat NZ, the grand final on October 17th brought together butchers from all corners of the country for a night of barbeques and bangers, all culminating in the announcement of the category medalists.
Among the stars of the evening were PAK'nSAVE Wairau Road, New World Stanmore, New World Te Rapa, and Four Square Martinborough, who each proudly took home gold medals in their respective categories.
When asked how it felt to have his in-store sausages ranked among New Zealand's best, Richard Jeffcoat, Butchery Manager at New World Te Rapa says it was fantastic recognition for months of hard work.
"It was a complete team effort!", Richard says.
"No matter how busy we got, everyone contributed to preparing the meat, weighing it up and offering input into the recipes. We took the whole team to the final and finding out we had won not one, but four medals was just a crazy accomplishment for all of us."
"It was particularly gratifying for our apprentices who helped work on all four of the winning sausages. The Smokey Bacon and Maple sausage was their creation, and I credit the win to them enthusiastically pushing me to keep adding more bacon and maple!" he laughs.
"I can't wait to see what they come up with next."
This year's competition received a record-breaking 646 entries across 17 categories, including new additions like a mince category for burger patties and meatballs. The judging took place over six days, as Aotearoa's best culinary experts tasted and tested all the entries, judging them on technical composition, aroma, appearance, texture and most importantly – taste.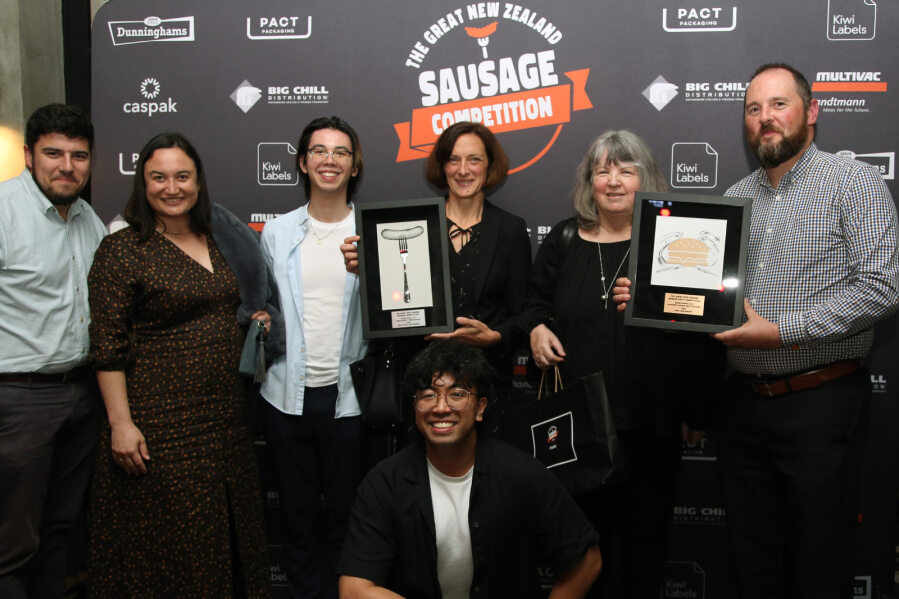 The Pams team celebrates their success at the grand final
(L-R: Elliot Winstanley, Melissa Steffensen, Max Ballard, Biljana Custic Sobocanec, Delwyn Oliver and Tim Campbell; Bottom: Bryce Saavedra)
Special kudos to Foodstuffs private label brand Pams, for showcasing its excellence by clinching a Silver Medal in the 'Dunninghams – Pork Category' for the Pams Classic Pork Sausage and winning a Bronze Medal in the 'Flavoured Burger Patty Category' for the Pams Lamb Burger Patties.
"This is an awesome achievement for the Own Brands team, particularly because it's been exactly a year since the launch of the Pams butchery range of sausages, koftas, and burger patties," says Biljana Custic Sobocanec, the Product Innovation & Development Manager at Foodstuffs Own Brands.
"We began this butchery project with the aim of introducing family-friendly, high quality and affordable products to these categories.
"We consider our sausages and burgers to be a nationwide solution, not just a product that is tailored to its local customer base, so it was a surprise and a delight to hear our names announced as medal-winners, especially considering we were up against a lot of artisanal butcheries.
"This win is a testament to the efforts of the entire team, as well as our collaborative relationship with our supply partner. It's just a cherry on top when you have that open and honest approach with a partner who is completely on board with what you want to achieve."
With summer just around the corner, Kiwis can plan their backyard BBQs with confidence, safe in the knowledge that an award-winning sausage is only a supermarket visit away.
All medal-winning sausages are available for purchase at their respective stores. Even if you don't live near a winning store, many of the awarded brands as well as the Pams offerings are available in Foodstuffs supermarkets nationwide.
You can check out the table below for a full list of Foodstuffs winners:
| | | |
| --- | --- | --- |
| Medal | Store | Sausage type |
| Gold | PAK'nSAVE Wairau Road | BOEREWORS |
| Gold | New World Stanmore | ANGUS BEEF TEXAN CHILLI AMD CHEDDAR |
| Gold | Raeward Fresh Harewood | PORK HERB AND GARLIC |
| Gold | New World Te Rapa | PURE PORK |
| Gold | Four Square Martinborough | BEEF |
| Silver | New World Remuera | BEEF, TRUFFLE AND PARMESAN |
| Silver | New World Ashburton | MEXICANA BRISKET |
| Silver | New World Ilam | CAJUAN PORK |
| Silver | Pams | PAMS CLASSIC PORK |
| Silver | New World Te Rapa | ANGUS BEEF |
| Silver | New World Te Rapa | PORK SMOKEY BACON AND MAPLE |
| Silver | Four Square Martinborough | LAMB PATTIE |
| Bronze | New World Victoria Park | TRADITIONAL PORK |
| Bronze | PAK'nSAVE Riccarton | GENUINE PORK |
| Bronze | New World Marton | BEEF STEAK & CHEESE |
| Bronze | Pams | PAMS LAMB BURGER |
| Bronze | New World Te Rapa | BOEREWORS |
| Bronze | New World Otaki | BEEF, SMOKED CHEESE AND CHIVES |
| Bronze | New World Timaru | CHICKEN LEEK AND BACON |
| Bronze | PAK'nSAVE Rangiora | PORK SMOKEY BACON AND MAPLE |