Kiwi brands showcase their latest innovations at Foodstuffs Expo, leaving nothing to waste
03 March 2023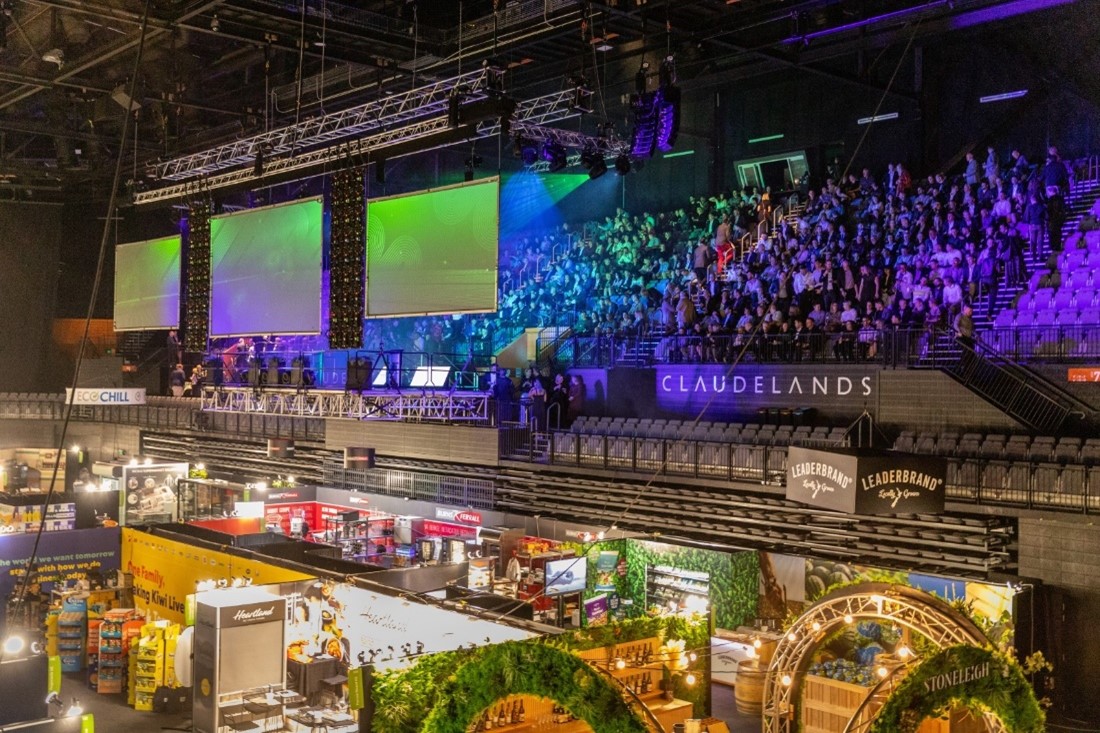 From dairy darlings like Lewis Road Creamery through to hot sauce honchos Culley's, this week more than 350 Kiwi brands will showcase their latest innovations to over 4,000 attendees at the Foodstuffs Expo, New Zealand's largest business-to-business expo at Claudelands Events Centre Hamilton over 8 and 9 March.
The Expo provides a valuable opportunity for brands to connect with representatives from locally owned and operated New World, PAK'nSAVE, Four Square stores from across New Zealand – who can taste, test, and learn more about new products from New Zealand and international suppliers.
Foodstuffs New Zealand Managing Director Chris Quin says as local co-operatives, Foodstuffs work alongside businesses to support their growth, which has benefits for everyone.
"The Foodstuffs Expo provides a platform for our stores and teams to meet with supplier partners, share ideas, celebrate our partnerships and is one of the ways we connect to stay ahead of trends to deliver what customers want and need, so it's a win-win."
For the first time, the cooperatives new retail media platform, Foodstuffs Precision Media will be at the Expo, showcasing the in-store media, digital screen network and e-Commerce solutions that brands will be able to utilise this year. The team will be on hand to share insights about the opportunities launching this year, enabling brands to engage customers at home, on the go, and at point of purchase. Since Precision Media launched in October, the team has been working with foundational brand advertisers to leverage new media services and dunnhumby science capability. Together, they're creating more relevant, personalised, and measurable campaigns across Foodstuffs North and South Island stores.
For home grown brands like Culley's, who've been building a cult following since 2011, owner Chris Cullen says the Expo is a chance to increase awareness of their brand and share their story and products with Foodstuffs teams.
"It's a great way for us to scope out opportunities, meet Foodstuffs people and provide education around our products and understand more about what supermarkets are seeing from customers."
Chris Quin says that suppliers have made huge efforts to come along to this year's Expo, despite facing significant disruptions following Cyclone Gabrielle and the Auckland Anniversary floods.
"We're hugely appreciative, Foodies Expo is such a great opportunity for everyone to get together and connect after a tough couple of months for our industry. We're mindful many of our suppliers and Foodstuffs team members attending will have been impacted by the weather events, so Expo will also be a chance for us to connect face-to-face on how we can continue to support each other and New Zealand through the recovery."
"Our customers are telling us that the cost of living and the price of groceries is a top concern and they're increasingly looking to find ways to help ease the pressure on their squeezed household budgets. In 2022, we identified the freezer section was becoming more of a go-to, with frozen fruits and vegetables, fish and meat options providing great value for money with little or no waste all year round. This year at Expo, we'll be looking for what else the freezer section can deliver and for new ideas and solutions to help customers save on their grocery bills."
As part of its pledge to be 'Here for New Zealand' and a promise to be sustainability leaders, the Foodstuffs Expo also has a focus on reducing food waste. Foodstuffs New Zealand Waste Minimisation Manager, Emma Harding says there's been meticulous consideration as to what happens to the food waste generated at every point of the event, from supporting exhibitors with waste minimisation plans and having EnviroNZ Zero Waste Champions stationed by bins, to setting up donation stations for any surplus food to go to local food rescue organisations after the event.
"Our goal is to make this a zero-food waste event so once everyone's gone home, we've got a team lined up who will sort through all the rubbish and separate any food waste into a separate bin. We'll then put the waste into a food waste composter which will turn it into compost overnight. As signatories of the Kai Commitment, we see this event as a fantastic platform to showcase our commitment to minimising food waste to all our stakeholders and to bring us one step closer towards our goal to achieve zero-waste by 2035."
The Foodstuffs Expo will also include a Here for NZ exhibition stand with Foodstuffs experts and partners who play a role in delivering Foodstuffs social promises which are, providing New Zealanders with access to healthy affordable food, supporting communities to thrive, providing meaningful work and being leaders in sustainability. New Zealand Food Network and Aotearoa Food Rescue Alliance will join subject matter experts on the stand to talk to attendees about community partnerships. Other focus areas will be around Foodstuffs social supermarkets, minimising food waste recycling soft plastics, sustainable packaging, responsible & ethical sourcing and improving energy efficiency.