No more single-use plastic produce bags come 01 July: Foodstuffs shares what Kiwis need to know
28 June 2023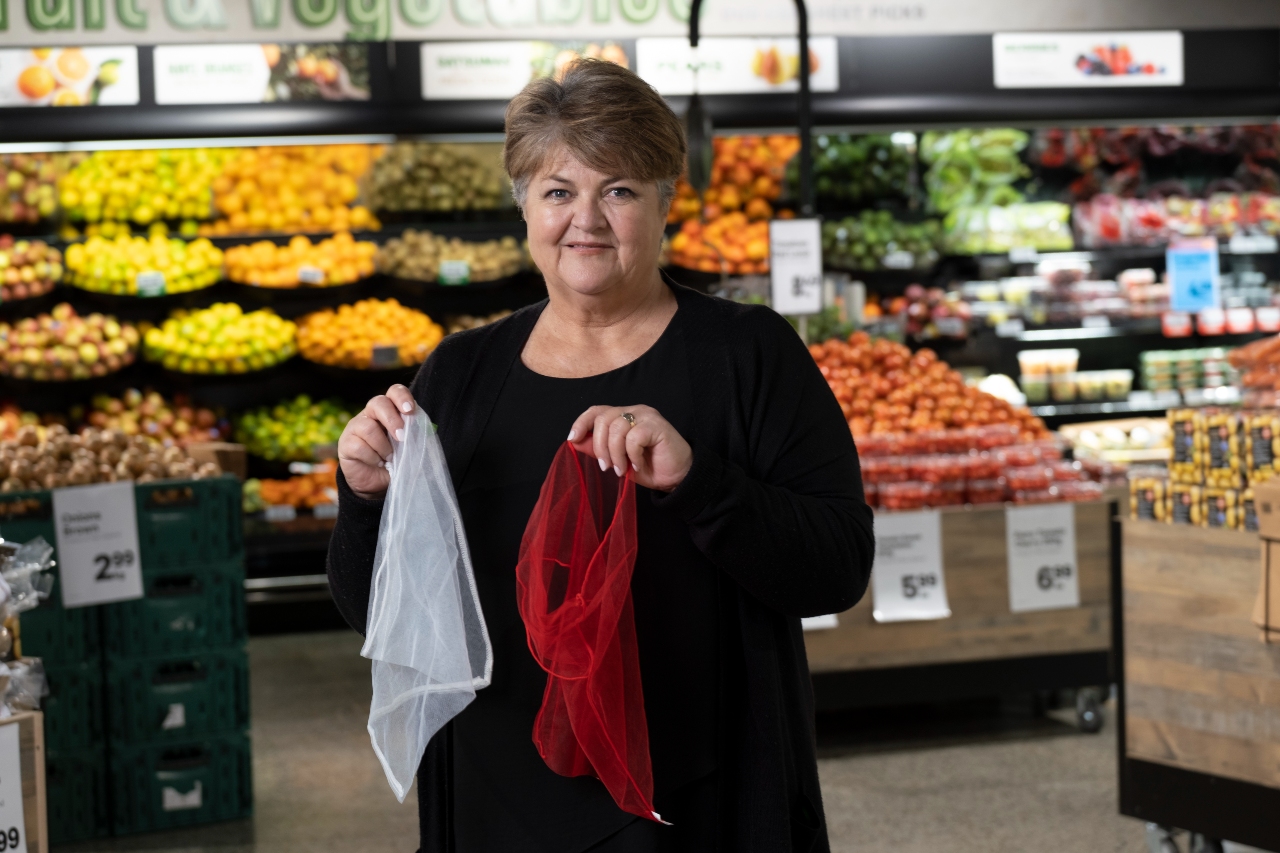 From 01 July 2023, single-use plastic produce bags will be removed from all supermarkets and grocery stores. This is part of a wider phase out by the New Zealand Government on single-use plastics and includes items like plastic straws and containers, saving around 150 million single-use plastic produce bags from going to landfill.
Foodstuffs, the 100% Kiwi owned co-operatives behind PAK'nSAVE, New World and Four Square supermarkets, welcomes the change, with Foodstuffs Sustainable Packaging Manager, Debra Goulding saying it's a positive move for New Zealand.
"Kiwis have adapted well to bringing in their shopping bags to store and we're confident we can all do the same with bringing our own reusable produce bags from home too. Our teams have been working hard behind the scenes to make the transition easier for Kiwis. We've focused on getting the right systems in place, having our people trained and providing instore signage for customers."
Loose fruit and vegetables are sold by weight and its vitally important Foodstuffs customers only pay for the weight of their produce, and not the bag they place it in. Instore and check-out teams have been putting up signage to help customers take the right steps to ensure they only pay for the produce they've selected. Customers are encouraged to look out for step-by-step instructions in the produce department and around stores. If they are unsure or need help, they should ask any of the in-store team.
Debra says she's certain New Zealanders will get behind the wider benefits that removing single-use plastic produce bags will bring despite a little inconvenience and shares a few tips to make things easier as Kiwis go about their weekly shop.
Debra's top five tips
Store a couple of produce bags inside the shopping bags you bring from home or use your grocery bags to hold produce until you're ready to go through the checkout.


Items like broccoli, cauliflower, or anything with a protective layer like corn can ride in your trolley or basket in the nude, simply give it a wash when you get home.


Make sure you don't pay for the weight of your produce bag. There'll be signage up in store but when you're at the checkout, take your produce out of the bag, put it on the scales and weigh your items.


Pop a basket or small cardboard box in your trolley to hold your produce and separate these items from the rest of your groceries


Use sturdier items in your shop like cereal boxes to create a barrier between your produce and everything else in your trolley
"To support the change, we'll be providing paper bags in a variety of sizes across PAK'nSAVE, New World, Four Square, Raeward Fresh and On the Spot stores for a limited time while Kiwis get into the habit of bringing their own reusable produce bags. We'll also have a variety of reusable bags available for purchase instore for customers who forget to bring one from home. The best thing to do is to bring reusable bags from home as it's the most environmentally friendly option," she says.
Foodstuffs is committed to improving sustainability and is working hard to reduce the environmental impact of packaging across its stores. As one of the first retailers in New Zealand to sign up to the New Zealand Plastic Packaging Declaration, the co-op is working towards 100% reusable, recyclable or compostable retail and private label brand packing such as Pams, Value and Gilmours brands by 2025. This commitment applies to all packaging types including plastic, fibre, glass and metal.
Packaging serves a role in the food and grocery sector to protect goods, extend shelf-life, reduce food waste and communicate information to customers. But it's important packaging is designed with 'end-of-life' as well as the New Zealand recycling system in mind. Foodstuffs is focused on removing and reducing unnecessary packaging and investing in circular design, to make sure resources can be reused.