Foodstuffs North Island and Palmerston North Methodist Social Services Open Social Supermarket in Palmerston North
14 August 2023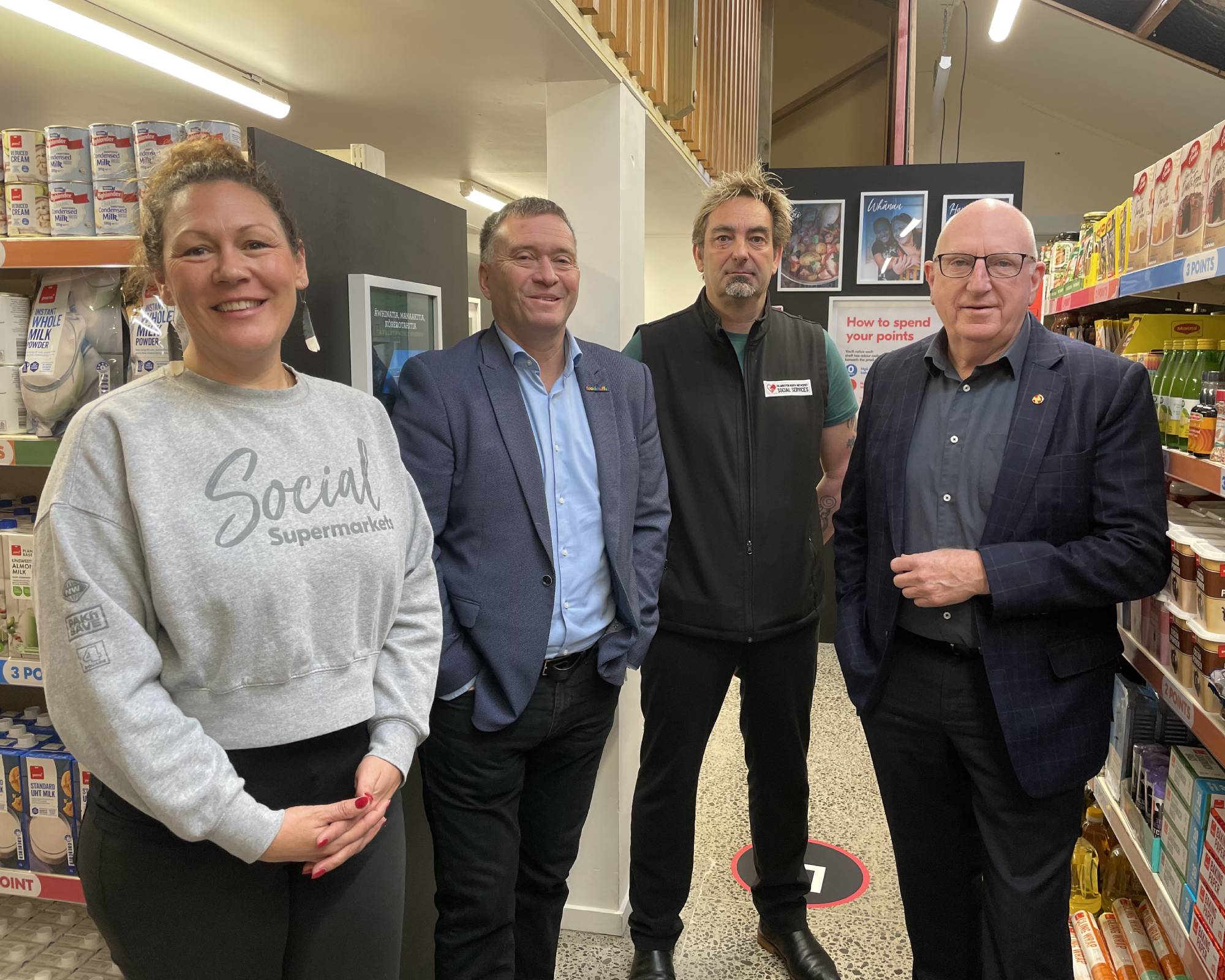 Willa Hand and Chris Quin from Foodstuffs North Island with Rik Te Tau and Pat Handcock from Palmerston North Methodist Social Services
Foodstuffs North Island, in partnership with Palmerston North Methodist Social Services, is proud to announce the opening of Palmerston North's first-of-its-kind social supermarket; Koha Kai Whare, a new initiative that aims to address food insecurity in the community.
Social supermarkets are a fresh and dignified approach to providing food support to individuals and families facing food insecurity. Unlike traditional foodbanks that often offer pre-packed food parcels, social supermarkets empower people to select the items they need themselves within a welcoming supermarket-style environment. This approach lets families choose the items that meet their dietary, cultural, and personal preferences, ensuring they receive support tailored to their specific needs.
Using a points-based system, the social supermarket offers a wide range of food and grocery products at little to no cost, making healthy and affordable food accessible to everyone in the community. Foodstuffs North Island is committed to opening many more social supermarkets across the North Island, each in partnership with local community organisations.
Chris Quin, Chief Executive of the Foodstuffs North Island co-op said: "Our 100% kiwi owned co-op has made a commitment to be 'Here for NZ' and we've made a promise to ensure all New Zealanders have access to healthy and affordable food. By partnering with Palmerston North Methodist Social Services, our goal is to take our support for the local community to the next level. We've got strong roots in Palmerston North, it's home to two of our distribution centres where we have 250 team members so it's especially meaningful to be supporting this community in this way."
With the cost-of-living crisis placing a significant burden on families, many hard-working Kiwis are struggling to make ends meet. The demand for food support has surged across the country, highlighting the urgent need for initiatives that prioritise dignity and inclusion.
Rik TeTau, General Manager for Palmerston North Methodist Social Services said: "Our organisation has been providing crucial wraparound support services to individuals in need for over six decades and we're stoked to partner with Foodstuffs North Island to bring this innovative social supermarket to Palmerston North. It aligns perfectly with our mission to uplift the community and to promote food security with dignity."
Foodstuffs North Island, as part of its 'Here for NZ' initiative, has made a promise to ensure all New Zealanders have access to healthy and affordable food, with each New World and PAK'nSAVE partnering with a local community partner to achieve this. Following the introduction of a social supermarket in collaboration with Wellington City Mission two years ago, Foodstuffs has continued to expand its social supermarket footprint. The addition of Koha Kai Whare in Palmerston North is the seventh social supermarket under its partnership umbrella and follows openings in Whangārei, Kaitaia, Tokoroa, Otūmoetai and West Auckland in partnership with other community organisations.
PAK'nSAVE Palmerston North under the guidance of Owner Operator Steve & Diane Duffield will act as the buddy store for Koha Kai Whare, providing ongoing support and training to ensure the success of the social supermarket.
The partnership between Foodstuffs North Island and Palmerston North Methodist Social Services represents a strong commitment to creating sustainable change and promoting community wellbeing. By empowering individuals to choose the food they need, this social supermarket promises to uplift the community and inspire a brighter future.