Positive signs main global drivers of food price inflation may have peaked
14 June 2023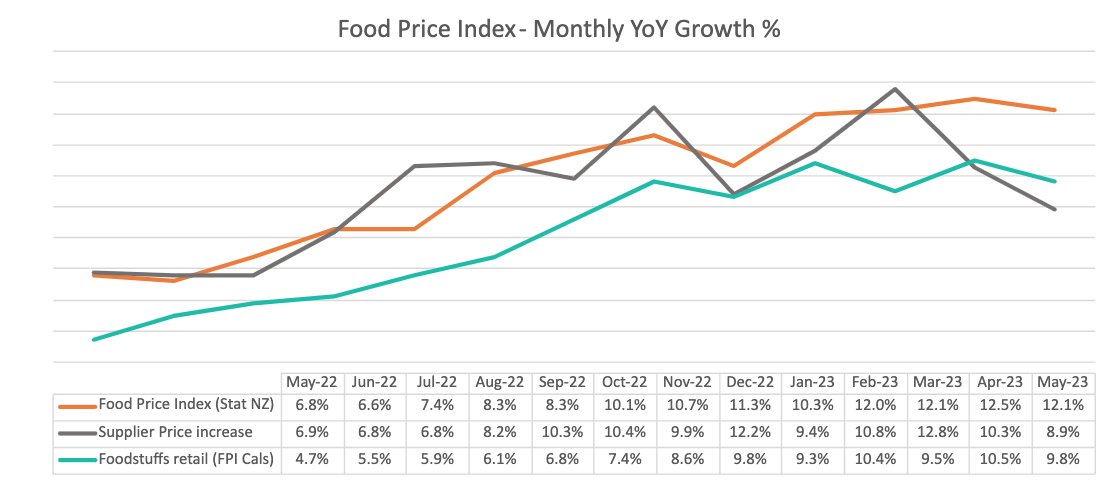 Stores in the Foodstuffs co-operatives hold price increases to customers below inflation for 13 months in a row.
The numbers:
Stats NZ Food Price Index (FPI) shows food

prices increased 12.1% for May 2023 compared to a year ago
In May 2023, the average product cost increase

from suppliers to the Foodstuffs co-operatives on the same products measured in

the FPI basket was 8.9%.
On the same products, the retail price increase

from stores to Foodstuffs customers was 9.8% - meaning the co-operatives'

members held prices in their stores at 2.3% less than inflation in May, but

were 0.9% above cost increases from suppliers to Foodstuffs on the FPI basket

for the month.
This month's Infometrics - Foodstuffs New Zealand Grocery Supplier Cost Index shows overall cost increases from grocery suppliers to supermarkets up 8.8%pa in May (across over 60,000 products Foodstuffs buys to stock in store).


Commenting on the latest food price inflation figures released by Stats NZ today, Quin says global indicators are pointing to some of the main drivers of food price inflation having reached their peak.
"The increase in the cost of goods we buy to put on shelf and the retail price to our customers both came in under 10% this month.

"Internationally, commodity prices are continuing to ease off the record highs reached in 2022 particularly for key ingredients like vegetable oil and wheat. Along with this, for the first time since Covid shocked the supply chain in early 2020 we're seeing most international shipping costs getting close to pre-Covid levels except for Trans-Tasman. Carriers are seeing reduced volumes and looking to increase their vessel utilisation."

The fuel price in May dropped slightly from what it was in April. However, the Government's fuel subsidy is due to come to an end on 30 June which will impact diesel prices and road user charges.
"While food price inflation remains high, we're hopeful we've seen the crest of the wave of record cost increases from suppliers that we've been experiencing over the last 18 months," says Quin.

"It is international cost pressures that are seeing an overall downward trend, but in New Zealand wages and weather are still fueling cost increases. This could see the cost of imported goods start to moderate ahead of a slowdown in cost increases on domestically produced grocery items.

"The minimum wage increase came through in April, and bad weather is continuing to affect crops including tomatoes, leafy greens and pumpkins.

"Low light and cold weather along with other issues with plant health have seen tomatoes sky-rocket in price. Greens have generally remained stable, although leafy greens like lettuce and spinach have also been impacted by poor weather conditions.

"Produce such as pumpkin has been impacted by quality issues due to the wet weather. We expect supply to be tighter than in a usual winter and will continue to look at imports to ease supply constraints where produce is not available locally.

"Produce that has been better value for customers include gold kiwifruit, green cabbages and broccoli. Avocados will also shortly be coming into season in early to mid-June."

Foodstuffs' Customer Insights data shows food and grocery prices remain the number one concern for 3 out of 4 customers. Also playing on customers' minds is the increase in crime (37%), Inflation (30%) and the State of Economy (25%).

Customers say they are buying less across all categories, except for Frozen which has seen a net increase this quarter. The most impacted categories are discretionary or higher ticket items. More customers are saying they're cutting back on fresh fruit, veggies and meat, and shopping across multiple banners and channels to get the best deals.

Quin says, "At the start of this year, we thought we would be able to see the trajectory of food price inflation by the end of Q1. Unforeseen weather events have meant it's taking longer to get a clearer picture but it's encouraging to see signs of moderating across the industry. As we know, predictions that inflation would be transitory were incorrect, and it will take time for easing to flow through."

In the US and the UK, food price inflation remains high and there's still volatility month to month. In the US, food prices rose 0.2% in May after being unchanged for the two previous months as fruits and vegetables, non-alcoholic beverages and other food products became more expensive.

"The cost of goods here may be rising more slowly but they're still rising, and we're continuing to see a large number of supplier cost increases coming through. We actioned over 22,200 product price increases between 29 January and 31 May from over 550 suppliers," says Quin.

"The sustained level of supplier cost increases coupled with other underlying cost pressures has meant we've come in slightly above supplier cost increases on the FPI basket this month.

"It is encouraging to see the record pace of increases starting to slow. It's now three and a half years on since Covid supply side shocks that have underpinned 30-year highs in food price inflation globally first hit.

"We're keeping a laser focus on delivering value to customers and making sure it's easy to find in store through the winter months. To do that, we have to keep buying well and running our co-operatives as efficiently as possible to best support our 550 local grocers who own and operate New World, PAK'nSAVE or Four Square stores in their communities."