QB Snacks gears up for North Island supermarket distribution with support from Foodstuffs competition
18 July 2023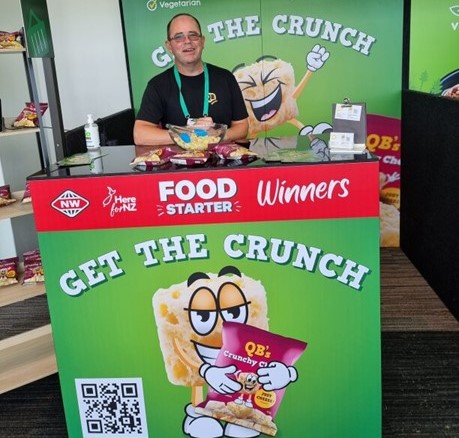 Graham Manson with QB snacks at the Foodstuffs Expo in March 2023
Graham Manson, the creator of keto and gluten-free snack company QB Snacks, is about to make a big impact on New World shelves across the North Island.
In 2022, QB Snacks was selected as a winner in the start-up category of Foodstuffs Emerge competition (formerly Foodstuffs FoodStarter), a Foodstuffs co-ops initiative that offers grocery entrepreneurs a fast-tracked journey to help scale up their business.
After further refining his product and fine-tuning his operations, Graham is ready to take the next big leap forward.
QB Snacks' inception can be traced back to the 2020 lockdown, when an effort to stick to a keto diet led Graham to begin his search for a tasty, guilt-free snack option.
"I started looking through my fridge for something to eat and I noticed some stale cheese that had begun to puff up, and that's when the idea struck me," Graham says.
Months of experimentation and refinement followed, culminating in the breakthrough formulation that would be packaged as QB Crunchy Cheese Snacks. The overwhelming demand from family and friends urged Graham to transform his passion into a fully-fledged business endeavor.
"And that's when the really hard mahi began," says Graham.
Graham and his team moved their base of operations out of his parents' cottage in Nelson and into the Food Factory – an affordable food-grade workspace generously provided by Pic's Peanut Butter founder to help develop and grow their company.
From the outset, Graham was committed to being a sustainable business, incorporating home compostable packaging across all his products. This choice was pivotal in impressing the competition judges.
Foodstuffs North Island New Zealand Managing Director, Chris Quin says as a 100% locally owned and operated cooperative, supporting businesses that are aligned to the organisation's values as well as what customers are seeking is a win-win.
"QB Snacks' dedication to nutritious ingredients, exceptional taste, and sustainable packaging solutions really excited us. We could see the potential to make a significant impact on the FMCG market and capture the attention of health-conscious consumers."
As QB Snacks makes final preparations to launch into New World stores, Graham's product is set to become the go-to choice for customers looking for a delectable snack that aligns with their dietary preferences and values.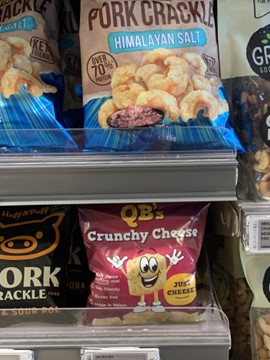 QB snacks on New World supermarket shelves
Entries are now open for this year's Foodstuffs Emerge, an expanded initiative that builds upon the success of previous FoodStarter competition, which Chris says allows all products available on supermarket shelves to enter the competition.
"Foodstuffs Emerge is a once in a lifetime opportunity for grocery entrepreneurs to gain access to Foodstuffs mentors and industry leaders and take their product on a fast-tracked journey from small beginnings to New World shelves across Aotearoa, just like QB Snacks.
"We're looking for the next product that's going to take New Zealand by storm, so if that's your product, I encourage you to get your entry in," he says.
Foodstuffs Emerging Supplier competition (Foodstuffs Emerge) 2023
Entries are now open for the inaugural Foodstuffs Emerging Supplier Competition (Foodstuffs Emerge). The winners will receive support from Foodstuffs experts and industry leaders, in a comprehensive, combined prize pack worth over $140,000.
Entries for Foodstuffs Emerge close on July 31 2023, to enter or find out more visit Foodstuffs Emerge.