Tokomaru Bay welcomes local grocer as new Four Square Owner Operator
4 July 2023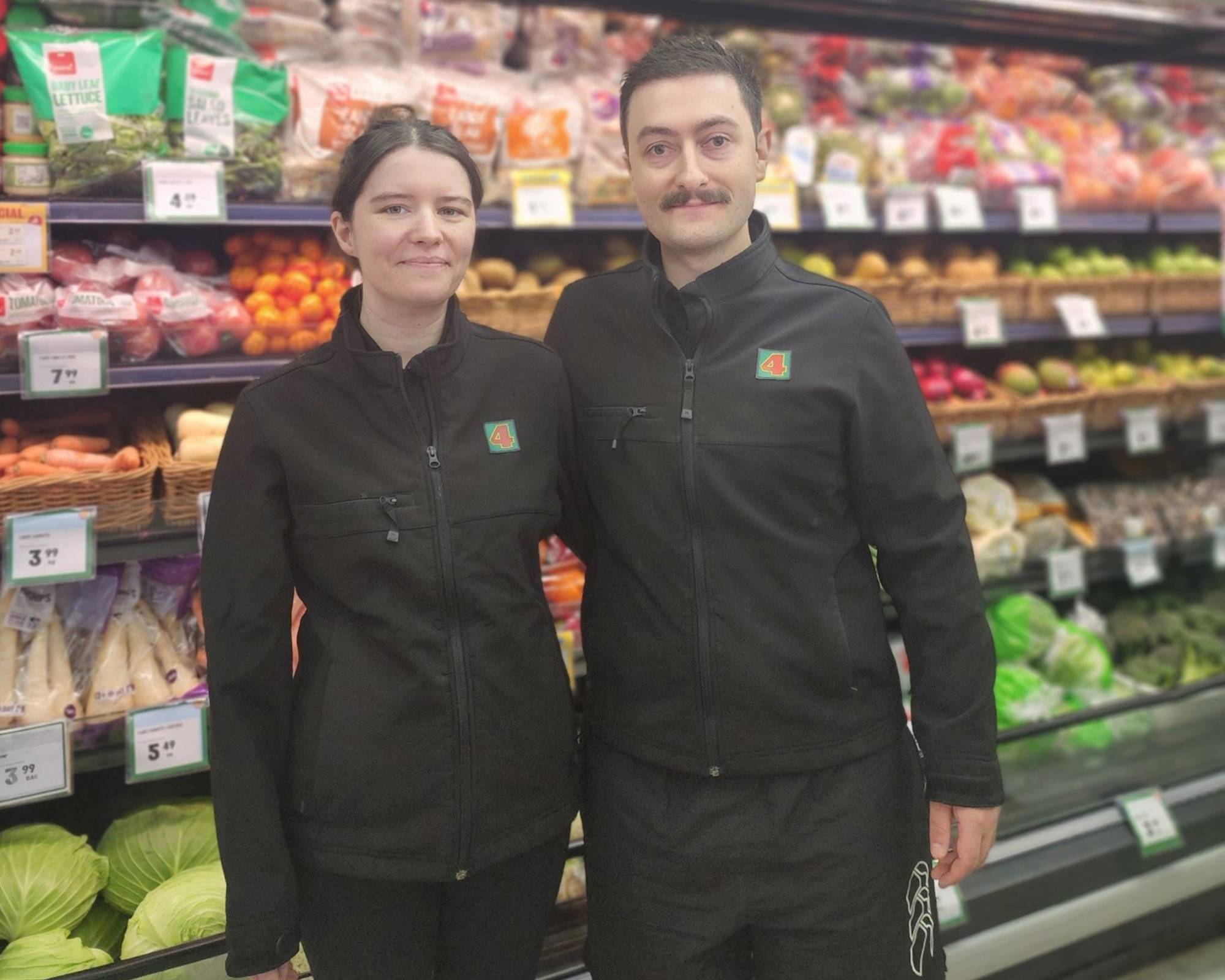 First time local Owner/Operators, Mike and Chelsea have begun the next phase of their careers at Four Square Tokomaru Bay

Tokomaru Bay has just welcomed Mike Turney, who, after almost 20 years of working in supermarkets, took the reins as the new Owner Operator of Four Square Tokomaru Bay last week.
Mike began his journey with Foodstuffs as a New World Grocery Assistant at just 13 years old and says becoming a first-time Owner Operator is a dream come true.
"I began my career working part-time at New World Matamata under Ewan Atherton. When I left to pursue University study in Auckland and later Hamilton, I still found myself back working in supermarkets, PAK'nSAVE Sylvia Park and New World Heaphy Terrace. During this time, the idea of store ownership caught my interest.
"I reached out to Ewan and he really sold me on the ownership journey, so I headed back to New World Matamata to get stuck into learning the ropes and completing my studies extramurally."
Mike says what attracted him to Four Square is the integral role a store plays in their local community and how each one is as unique as the area and people it serves.
"There's no cookie cutter approach here! Four Square Tokomaru Bay is a full-service supermarket that offers a bit of everything done well, including a Butchery, Pharmacy distribution, Postal Services, an ATM and even a gas station.
"We provide so many different types of services to so many different kinds of people, and now - particularly in the wake of Cyclone Gabrielle, these services are more vital than ever," he says.
Mike and his partner Chelsea - who many will know from her role behind the counter at Muirs Bookshop – have lived in Gisborne for ten years and are both excited about their move up the East Coast. Mike has spent the last two years working alongside Sam Wanklyn and the team at Four Square Wainui Road which underwent a big renovation programme during his time there.
"It's been a massive few years at the store as we worked through the challenges of extensive renovations, but still nothing could have prepared any of us for the shock of Cyclone Gabrielle. It's where the power of the co-op really swung into action supporting hard hit communities and getting us back up and trading as soon as possible.
"I joined the store's effort to work with suppliers to get stock into the city and ensure the community was kept fed. Gisborne was isolated and without communications for most of the week after Gabrielle hit, but thankfully, we were only closed for a day and were back to semi-normal operations within a week."
Mike would also like to acknowledge the teams and people he has worked alongside at PAK'nSAVE Gisborne and Four Square Wainui Road over the last decade.
"I couldn't be more grateful to the people and teams I've been a part of here in Gisborne. They've all supported Chelsea and I and prepared me for the next stage of my career. Without their support, none of this would've been possible."
Being part of the Tokomaru Bay community is a top priority for Mike, who is intending on training to become a volunteer firefighter. Mike and Chelsea are also planning to support local organisations in the surrounding area.
"Chelsea and I have lived in the Tairāwhiti region for about a decade now. This region has given us so much and we're really looking forward to giving back and continuing to serve such an awesome community".