Tokoroa Social Supermarket Celebrates Six Months of Service
19 April 2023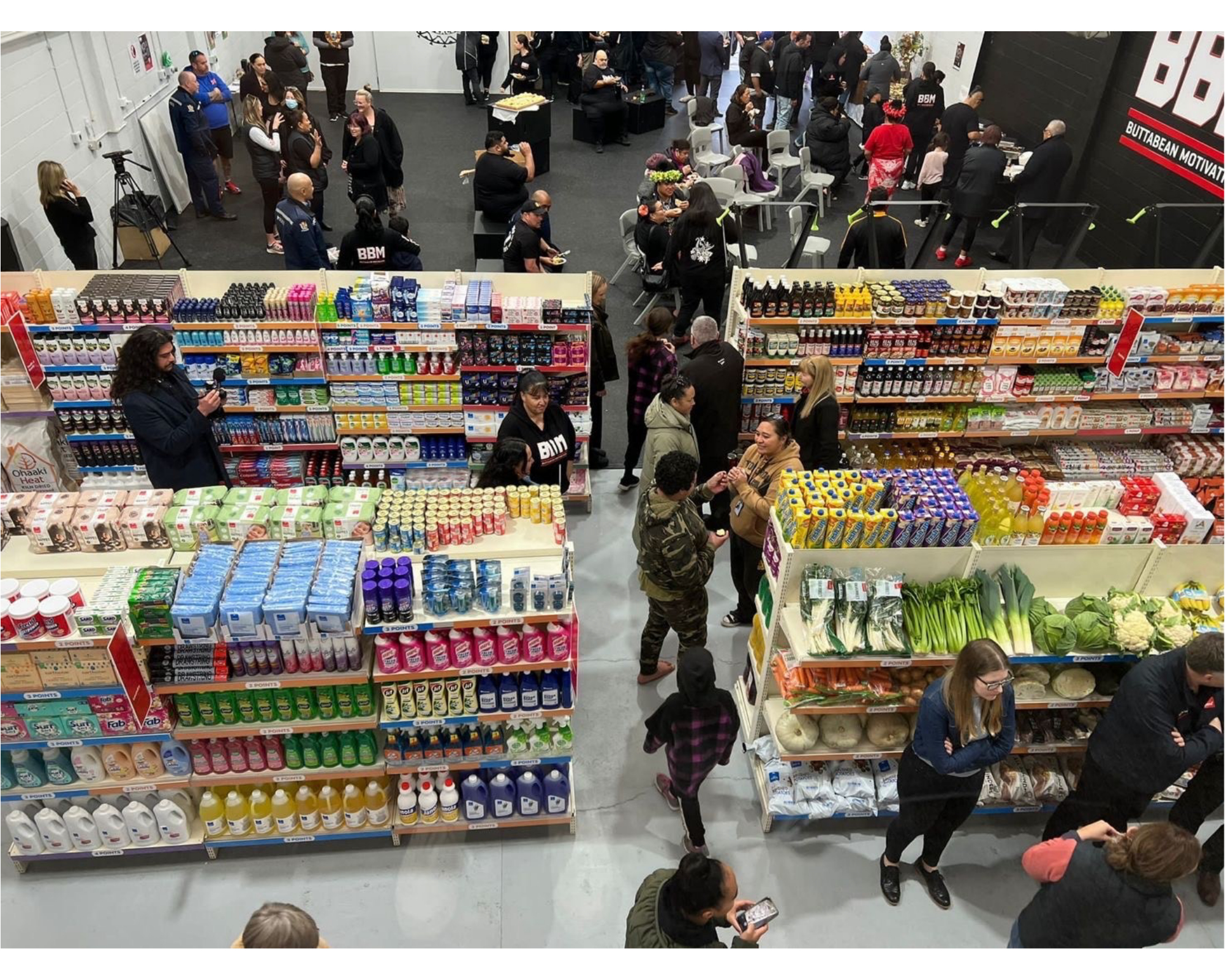 Tokoroa's social supermarket is proud to share that in the six months it's been open, the service has already made a significant impact in the community. Under the leadership of BBM Founder, Dave Letele and Supermarket Manager Norah Carlson, the social supermarket has been building strong relationships with other service providers in the area and supporting whānau in need.

In the past six months, the social supermarket has supported over 25 families a week. The supermarket provided Christmas hampers to families in need, which were greatly appreciated and a huge help, especially as most whānau in contact with the social supermarket were not prepared for the holiday season.

Norah Carlson, Social Supermarket Manager said: "The struggle is real, and a lot of people get to a point where they just don't know what to do. We're often the last resort, and we're here to provide a helping hand and support to those in need. As well as providing access to food and the essentials we also connect our community with social services to provide wrap around support, employment opportunities through connection Work & Income, free community bootcamps, and support with local youth programmes."

Dave Letele, Founder of BBM said: "It's so concerning seeing the increase in demand across the board, but I believe this social supermarket model is the way of the future."

Willa Hand, Head of Membership Excellence for Foodstuffs North Island said: "We know lots of Kiwis are doing it tough right now and hardworking whānau sometimes just need a bit of a helping hand. Together with the team at BBM, we've been putting in the mahi to provide much needed support for the people of Tokoroa. What's really exciting is that everyone is committed to building a stronger, more resilient community."

The community has expressed immense gratitude for the service provided by the social supermarket and the BBM team in Tokoroa. The supermarket has become a vital resource for many families, providing access to affordable food and essential items.

The social supermarket programme is part of Foodstuffs' commitment to be 'Here for NZ', delivering on its four promises to support every New Zealander to access healthy and affordable food, create meaningful work for its people, support local communities to thrive and lead on sustainability in its operations and how it sources its products. Last year, the co-op announced plans to partner with community organisations to open many more social supermarkets across the motu.

BBM's Social Supermarket in Tokoroa is partnered with New World Tokoroa who provide ongoing training and support to the BBM team while also providing product to help keep the shelves stocked.
About Foodstuffs North Island (FSNI) 

Foodstuffs North Island is a 100% New Zealand owned co-operative, with 323 owner operated stores in communities across Te Ika-a-Māui operating under the Four Square, New World, PAK'nSAVE, and Gilmours brands. With 2.7 million customer visits in our stores and online every week and 24,000 Foodies across the North Island, we play a big role in Kiwis' lives. Our purpose is to make sure New Zealanders get more out of life and we aspire to be one of the most customer driven retailers in the world. 

About BBM's Social Supermarket in Tokoroa

BBM's Social Supermarket is a community-driven initiative that provides much-needed support to families and individuals in need. The supermarket is run in partnership with Foodstuffs North Island and is committed to building a stronger, more resilient community through the provision of critical resources and services.