Underlying drivers of inflation keeping pressure on food prices
11 May 2023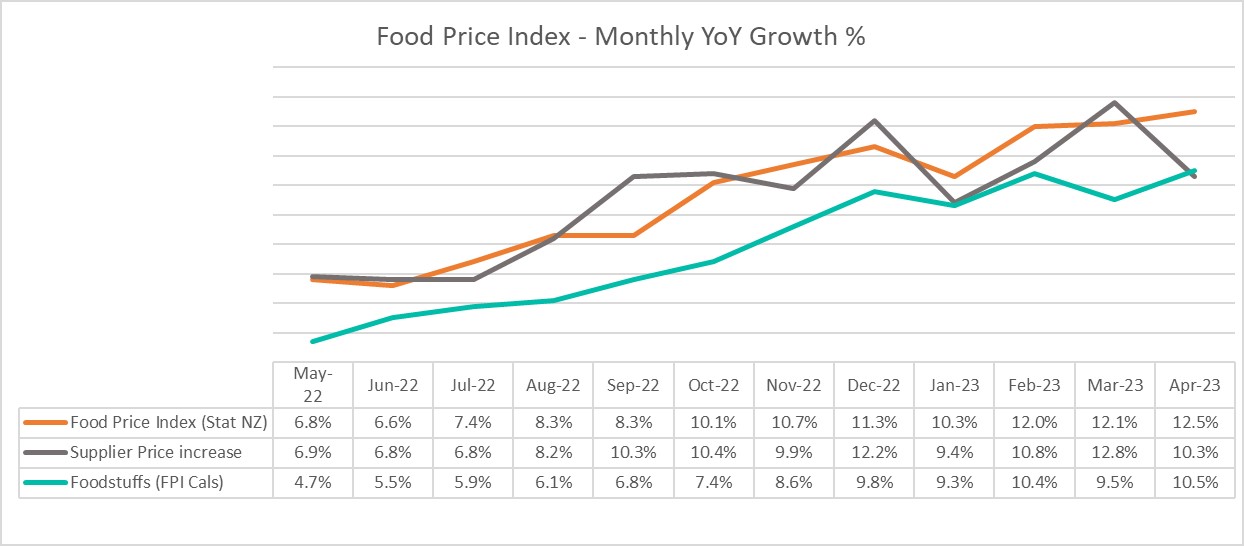 Stores in the Foodstuffs co-operatives hold price increases to customers below FPI for 12 months in a row.

The numbers:

Stats NZ Food Price Index (FPI) shows food prices increased 12.5% for April 2023 compared to a year ago.

In April, the average product cost increase from suppliers to the Foodstuffs co-operatives on the same products measured in the FPI basket was 10.3%.

On the same products, the retail price increase from stores to Foodstuffs customers was 10.5% - meaning the co-operatives' members held prices in their stores at 2.0% less than inflation in April, but were 0.2% above cost increases from suppliers to Foodstuffs on the FPI basket for the month (after 11 months of being under).

This month's Infometrics - Foodstuffs New Zealand Grocery Supplier Cost Index shows overall cost increases from grocery suppliers to supermarkets up 10.00%pa in April.
"The inflation fight is proving to be long and difficult, with a range of underlying drivers keeping the pressure firmly on the cost of growing, manufacturing and retailing food in New Zealand," says Foodstuffs NZ Managing Director, Chris Quin.
Commenting on the latest food price inflation figures released by Stats NZ today, Quin says the biggest challenge from paddock to plate is inflation.
"We're doing everything we can to fight inflation – buying well to get products at a fair price for customers and running our stores and supply chain as efficiently as possible to keep our costs down.
"But there are a number of factors making the battle tougher, with some of the major drivers making it more expensive to get food on shelf out of our hands."
Underlying causes of inflation keeping pressure on food prices
The Infometrics-Foodstuffs New Zealand Grocery Supplier Cost Index (GSCI) shows a 10.0%pa increase in what suppliers charged supermarkets for goods in April, with suppliers still facing high input cost pressures.
"We're continuing to see a large number of supplier price increases coming through, with some suppliers now on to their second or third increase over the last 12 months. We actioned over 17,500 product price increases between 29 January and 30 April from over 450 vendors, after the usual summer price change moratorium ended," says Quin.
"Suppliers are continuing to face extra challenges and added costs, including the cost of raw materials, services such as logistics, the ongoing CO2 shortage and higher labour costs, which is driving the large number of supplier cost increases we're still experiencing.
"It's not just supplier cost increases, but there are also a range of other inflationary pressures weighing heavily on food prices including transport, wages, and one-off weather events.
"Across our logistics network we're still experiencing a raft of operational price increases, amplified by ongoing inter-island service disruptions, increased sick leave due to Covid-19 and significant labour pressures facing the transport industry.
"Ongoing damage to key roading and infrastructure due to floods and cyclones is making it more challenging for us to get supplies to our stores across the North Island.
"The increase in wage costs has been a major contributor to inflation and we're still struggling to find skilled workers, like Class 5 truck drivers, in key sectors of our business due to the tight labour market.
"Weather remains the wild card in terms of domestic inflation this year. The weather in Auckland earlier this week is evidence of this and we're still seeing some of the flow-on effects of Cyclone Gabrielle."
Households continuing to feel inflation squeeze
Foodstuffs' latest Customer Insights Survey shows 59% of respondents consider they are in a precarious financial situation, up 2% from last quarter, and over half expect their financial circumstances to get worse over the next year.
Quin says the biggest concern for Kiwis right now is the cost of food.
"Our latest survey shows customers are shopping more often across more brands as they look to find value, and cutting back on non-essentials, meat, and fruit and veges. Customers are also buying more frozen products compared to a year ago to reduce waste, make their budgets go further and manage cost increases across fresh produce.
"Shopping seasonally for produce is still the best option for customers, with gold Kiwifruit and mandarins both great value right now. Improved weather across the country has also made greens more affordable, with supply finally coming right post cyclones and floods. Customers can therefore find value in produce like cauliflower, broccoli, and lettuce."
12 months of holding food price increases to customers below FPI
Quin says it's important that stores in the Foodstuffs co-operatives have managed to hold prices below FPI for 12 months in a row, since May 2022.
"Over the last year we've been measuring how we compare against the FPI basket, so that customers have a full and transparent picture of food cost changes and what's driving them. The data across the 12-month period shows the heavy lifting we've been doing to absorb record cost increases so we're not passing them straight on to customers in the retail price on shelf.
"Retail and supplier cost increases were generally in step in April, but it is the first time since we began this analysis where the retail price increase to our customers was above product cost increases from our suppliers (0.2% above).
"We've been absorbing record supplier increases over the last 11 months, but the sustained level of increases coupled with a range of other underlying cost pressures has meant we've come in slightly above supplier cost increases this time around.
"Our focus for the winter months ahead remains firmly on delivering the best value for customers at the checkout. This includes taking a deeper look at which products are most critical to customers and ensuring we're helping them find great value across those core items."