Warkworth Welcomes New $46 Million PAK'nSAVE
20 June 2023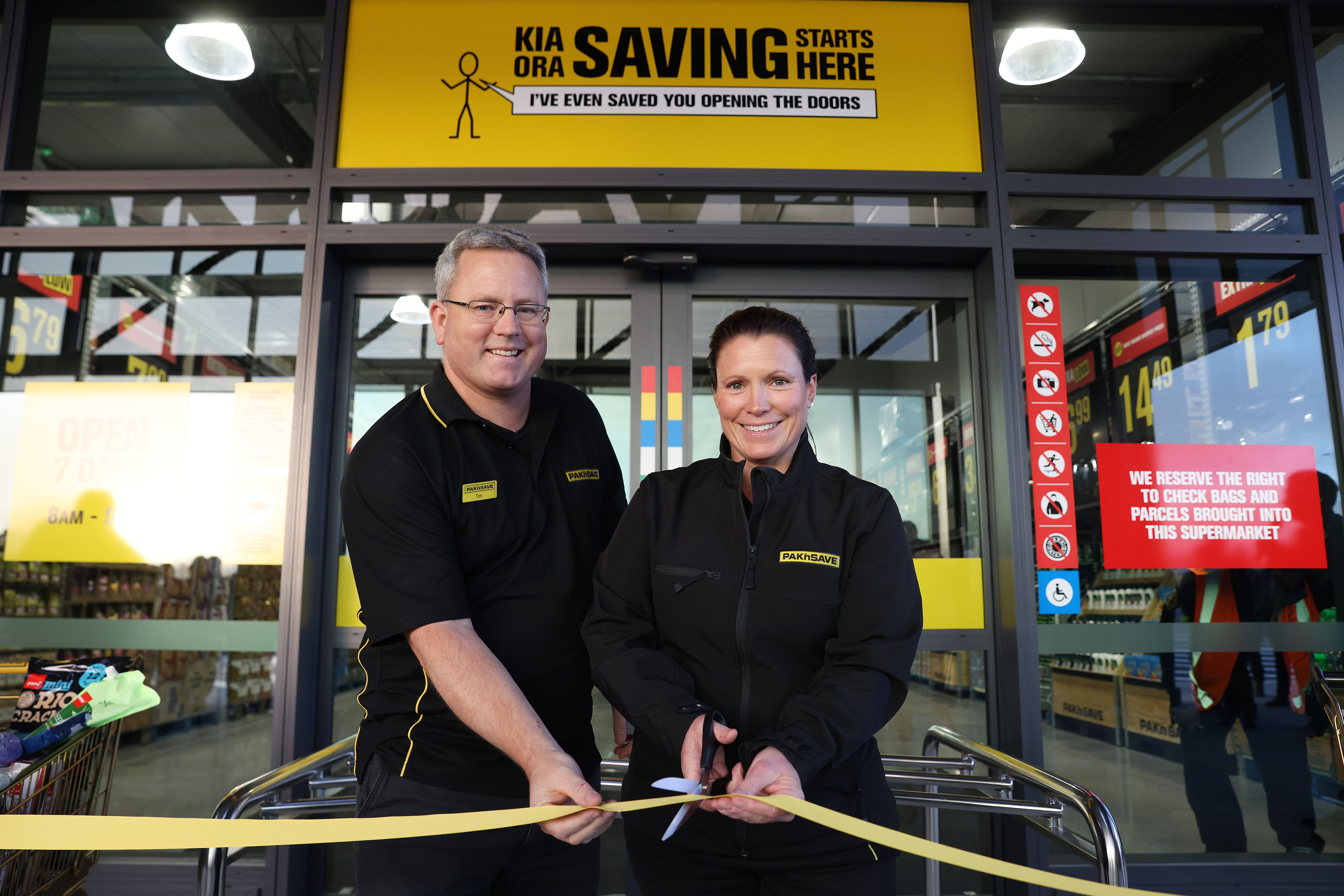 Foodstuffs North Island, the 101-year-old New Zealand owned co-operative behind PAK'nSAVE, New World and Four Square stores across the North Island, is proud to announce the opening of PAK'nSAVE Warkworth.
PAK'nSAVE Warkworth in numbers:
$46 million dollar investment in the local community
5,300sqm site
149 roles created
1 local owner operator, Anna Carmichael, whose family has lived in Warkworth for 10 years
275 car parks including dedicated spaces for parents with children
Nine team member operated checkouts
14 self-checkouts
The 58th PAK'nSAVE serving New Zealand
$100m investment by Foodstuffs in building and transforming co-op stores each year
This highly anticipated opening marks a significant milestone for Foodstuffs North Island, with a $46 million investment made to bring this state-of-the-art supermarket to the growing community. PAK'nSAVE Warkworth will create 149 new positions, while offering customers a spacious and contemporary shopping experience.

Spanning a site of 5,300 square metres, which is just under the size of a soccer field, PAK'nSAVE Warkworth is conveniently located on the corner of Hudson Road and State Highway 1 in town. This store is the 58th PAK'nSAVE location in the New Zealand, showcasing Foodstuffs commitment to providing accessible and affordable groceries to communities right across New Zealand.

Foodstuffs North Island Chief Executive, Chris Quin said: "PAK'nSAVE Warkworth offers a great shopping experience, and it also shows our community support and sustainability. The store's design incorporates the latest generation format, featuring ample space for customers and efficient behind-the-scenes operations, all designed to keep costs down. There's lots of natural light coming into the store, enhancing the fresh food offerings in produce, seafood, and butchery. There'll also soon be a convenient drive-through click-and-collect area, allowing customers to schedule their collection and have their groceries delivered straight to their car."

PAK'nSAVE Warkworth takes pride in supporting local suppliers by stocking quality local produce to deliver the best prices for its customers. Examples include the store having relationships with local avocado growers in Tapora, mandarin growers in Matakana, and strawberry growers from Omaha. By sourcing locally, PAK'nSAVE Warkworth actively contributes to the community while keeping costs down for customers.

A commitment to sustainability is at the core of PAK'nSAVE's values and PAK'nSAVE Warkworth is no exception. The store will employ various strategies to minimise food waste, including repurposing overripe bananas for delicious banana bread and utilising unsold hot cooked chickens in pizzas, pasta dishes, and quiches in the deli. PAK'nSAVE Warkworth collaborates with the Warkworth Food Rescue team, who will collect unsellable products for distribution to local food banks, making a positive impact on the community. The store also employs energy-efficient upright fridges and freezers, while recyclables such as plastics, tins, and glass are sorted and processed accordingly. Cardboard boxes and soft plastics will be baled and sent for recycling, and a soft plastic recycling system will be available to the public.

Owner Operator Anna Carmichael brings a wealth of experience to PAK'nSAVE Warkworth. With a Foodstuffs career spanning over 20 years, Anna's journey began as a checkout operator at New World Eastridge near Mission Bay in Auckland. She steadily advanced through various roles, including duty and grocery manager, before joining the Foodstuffs trainee owner operator program. Anna's career includes owning a Four Square store in Taranaki, New World Island Bay in Wellington, before moving with her family to New World Warkworth 10 years ago and culminating in the opening of the brand new PAK'nSAVE Warkworth.

Owner Operator of PAK'nSAVE Warkworth, Anna Carmichael said: "I'm excited and proud to be bringing PAK'nSAVE's low prices to Warkworth. Having been a part of the community for 10 years, Warkworth's such a special place with its unique mix of urban dwellers and farming communities. I really appreciate all the support I've received along the way and look forward to welcoming locals and visitors into store.