Warmer weather better for fruit and veges but inflationary headwinds persist
12 October 2023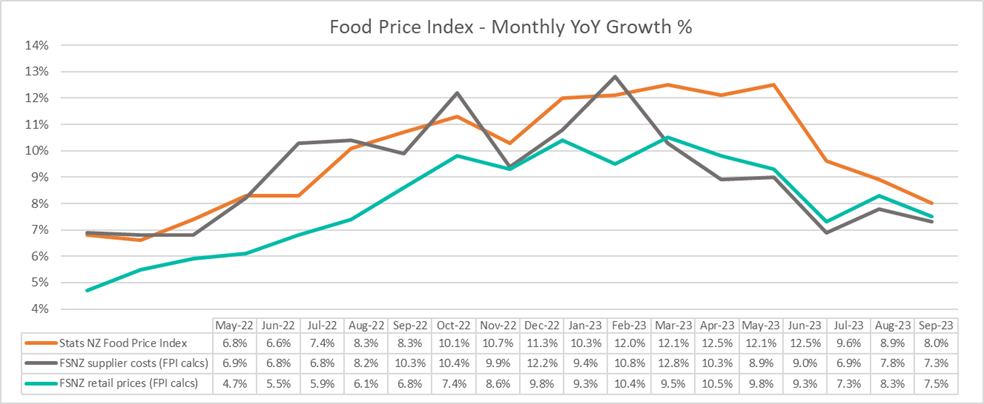 Foodstuffs analysis against FPI data (May 2022 – September 2023)
The numbers:
Stats NZ's Food Price Index (FPI) shows food prices on their FPI basket measure increased 8.0% year-on-year in September 2023, compared to 8.9%pa in August 2023.

Foodstuffs' data on the same product categories measured in the FPI basket shows retail prices at the two co-operatives' 500+ stores were up 7.5%pa in September 2023 (vs. 8.3%pa in August), while its suppliers charged 7.3%pa more, on average, across the same categories (vs. 7.8%pa in August).

Earlier, the Infometrics-Foodstuffs New Zealand Grocery Supplier Cost Index (GSCI) revealed costs from suppliers to supermarkets across the wider set of 60,000 products the two co-operatives buy had climbed 6.1%pa in the year to September 2023 (down from 6.6%pa in August).
"The outlook for fruit and vegetable prices is improving as warmer weather brings more favourable growing conditions, but headwinds remain in the form of a lower exchange rate, higher commodity costs and volatility in international fuel prices," says Foodstuffs NZ Managing Director, Chris Quin.
Quin's comments follow the release of Stats NZ's latest food price index (FPI) figure, tracking the prices of a representative basket of goods. While the cost of the FPI basket grew 8.0%pa in September 2023, prices for the same product categories were up 7.5%pa at the two Foodstuffs co-operatives' stores.
"For 17 months, we've been comparing our performance for retail prices with Stats' NZ's basket and Foodstuffs has always been lower.
"In that time, we've been absorbing higher wages, fuel and electricity costs, and our suppliers' extra input costs have slowly been flowing through to prices on shelves.
"It's no secret either that New Zealand has a serious retail crime problem, which Retail NZ has estimated is costing the wider industry roughly $2 billion a year, and it's something we're having to invest in for the safety of our teams and customers.
"We're doing everything we can to further tighten our focus on buying well and creating efficiencies within our business operations."
Quin says a positive sign is that the weather is slowly improving, meaning the flow and value of fresh produce is improving too.
"The Spring weather has been volatile but supply is improving for most green vegetables. Asparagus season is finally kicking in, and we're starting to see some berry fruit coming through. The export avocado season is underway as well, and due to the skin damage caused by the rain earlier this year there's a lot of stock coming onto the domestic market, creating opportunities for our shoppers."
Foodstuffs data shows avocado prices were down 11% in September, year-on-year, with sharper falls seen for cauliflower (37%), tomatoes (35%), broccoli (33%), green kiwifruit (25%) and cabbage (24%).
"Our produce experts say kumara and pumpkin supplies remain tight, though, and current prices reflect that. Carrots will be short until the new season starts," Quin notes.
He says value could also be found in the meat department, specifically lamb, with the price of shoulder chops down 9% in September, year on year.
"Chinese consumers' demand for lamb has softened post-Covid and is expected to stay lower for a while. That surplus supply is pushing down global prices. China usually buys about half of New Zealand's lamb exports, so much of that meat is staying here instead."
At the same time, supply shortages are making a number of key food imports costlier, with basic food commodity prices rising 2% in September, month on month, despite falling 6% per annum.
"Rice is still going up, largely due to India's ban on certain imports. Likewise, sugar, cocoa and peanuts have all had growing or production woes, and most of them are part of the FPI basket, so that's offset some of the local decreases."
Energy prices also surged 8.3% in September, before correcting, and now threaten to rise again as world markets react to events in the Middle East.
"Higher diesel prices hit our truck fleets in September, and while international shipping costs are mostly back to pre-Covid levels, the lower exchange rate is offsetting the savings from improved shipping costs, meaning we're not seeing prices for imported products come down as much as we'd like."
Earlier this week, the latest Infometrics-Foodstuffs New Zealand Grocery Supplier Cost Index showed a further slowing in the average rate of cost increases from suppliers to supermarkets across 60,000 products, at 6.1%pa in September 2023 compared to 6.6%pa in August.
The Index found all but one supermarket department – fresh produce – saw higher supplier costs in September compared to August, month on month. In general, more items were rising in cost, but by smaller magnitudes. Infometrics said concerns remained for sustained input cost pressures, given higher diesel costs and the potential for a lower exchange rate affecting imports.
Foodstuffs' data on the smaller group of products in Stats NZ's FPI basket shows supplier costs rose 7.3%pa in the year to September, on average, across the same categories (after 7.8%pa in August).
"It's good to see cost increases from our suppliers continuing to slow down," Quin says. "We know they are battling the same pressures many businesses are, both here and overseas, particularly higher wages and input costs."
"We'll continue to work with suppliers to see how we can keep the cost of food down for consumers, while also recognising inflationary pressures can only be absorbed by businesses for so long."