What chocolate gift tops the list for Father's Day and (surprise!) it's not scorched almonds 
25 August 2023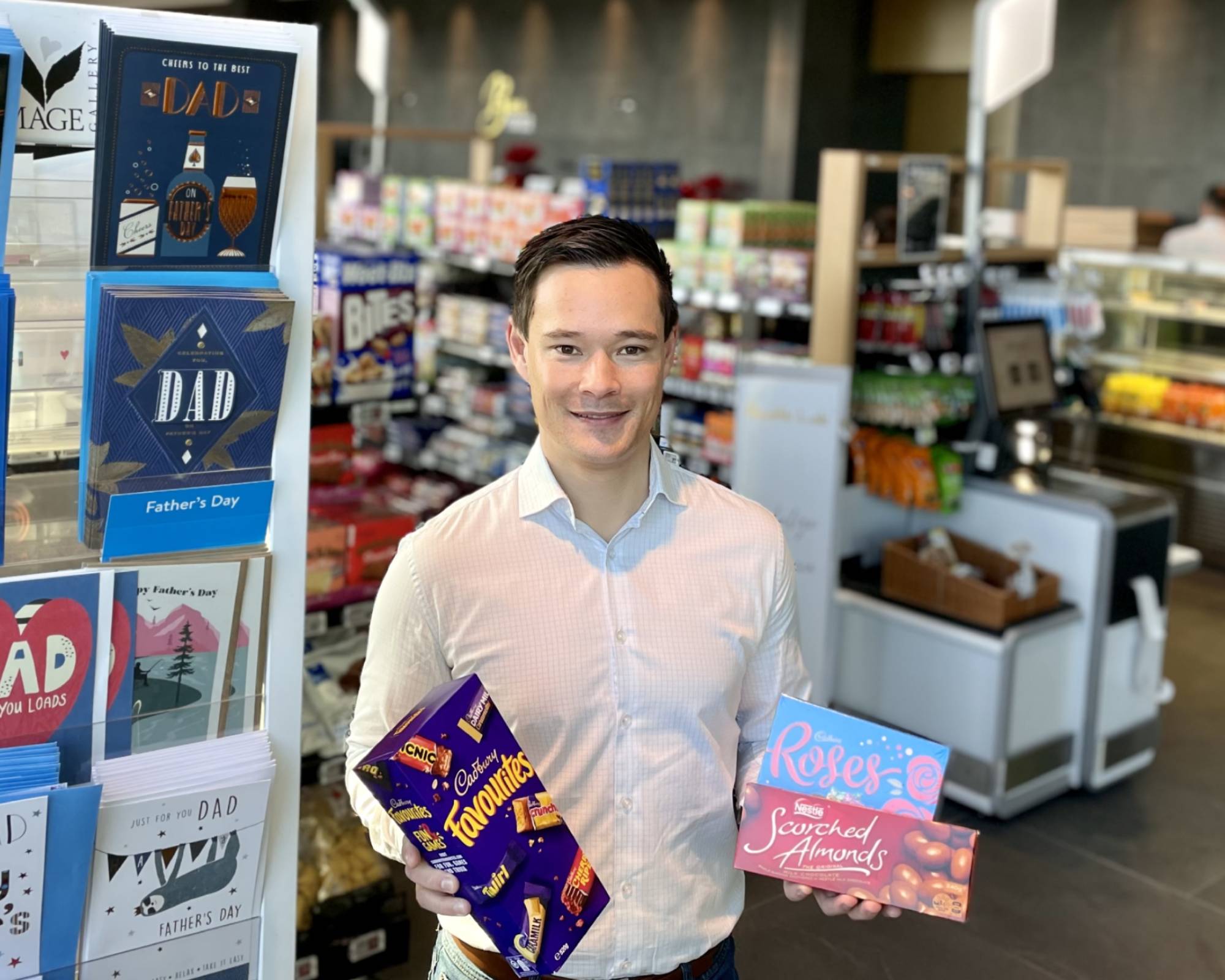 Matt Lowe, Foodstuffs North Island Head of Non-Food & Confectionery with some top chocolate gifts
Life - according to one popular movie quote - is like a box of chocolates, and for a fast-approaching Father's Day, many dads up and down the country will never know what chocolate they're gonna get come Sunday 3 September.
As one of the nation's most popular go-to gifts for dad, which chocolate variety is the most favoured by the sons and daughters of New Zealand?
Foodstuffs, part of New World, PAK'nSAVE and Four Square supermarkets looked through past sales data over several years in the lead up to Father's Day and have determined which chocolate is likely to come up trumps this year.
The nation's favourite Father's Day chocolate is in the title, with Cadbury Kiwi Favourites, particularly the larger 560-gram variety, being the most popular. Sales of these little wrapped treats increasing by a whopping 725% in the week leading up to Father's Day last year.
The next most popular is the smaller Cadbury Favourites 265-gram version tied for second with Nestlé Scorched Almonds, with sales of these chocolates both rising by around 200% in the week leading up to Father's Day.
Foodstuffs North Island Head of Non-Food & Confectionery, Matt Lowe, says there's probably a few reasons why Cadbury Kiwi Favourites top the list, and one of them may not be so altruistic.
"The main reason why it's a popular choice for Father's Day is probably because gift givers are hedging their bets that at least a couple of chocolates inside will be liked by dad. The second reason is probably to do with the fact that they can be easily shared and who knows, maybe they buy the bigger version hoping they'll be able to get in on the action," Matt says.
Foodstuffs regularly analyse sales information to ensure that what customers are seeking can be found on shelves, and Matt says the most popular chocolates for dad seem to be fairly consistent each year.
"We looked over the last several years of sales information which consistently come up with these brands, so we know the trend will likely continue into this year too. There are definitely new flavours and trends in chocolate popping up all the time, like the return of Cadbury Caramilk a few years ago, or the Whittaker's new releases.
"What's most important is that you don't forget about dad on Father's Day. If you do grab a chocolate gift, perhaps pick up a bigger version so you can get some too," Matt says.
Top five most popular chocolate gifts bought by customers for Father's Day
1. Cadbury Kiwi Favourites 560 gram
2. Cadbury Favourites 260 gram (2=)
2. Nestle Scorched Almonds (2=)
4. Cadbury Roses 225 gram
5. Cadbury Fruit and Nut 310 gram