Foodstuffs North Islands celebrates its Material Handling Equipment Operators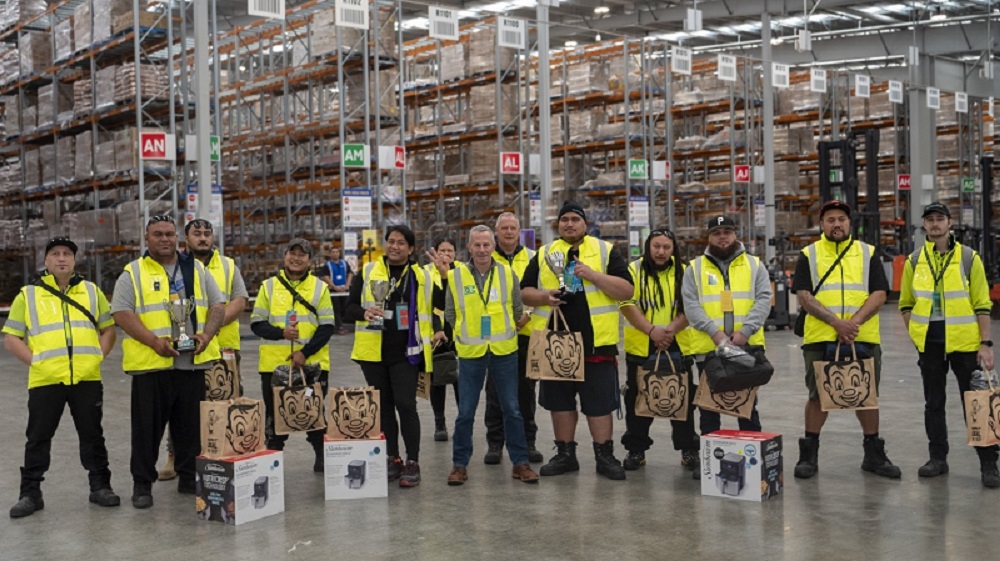 Foodstuffs North Island celebrated its Material Handling Equipment Operators (MHE) in the co-op's MHE Operator of the Year competition (MOOTY) at its Landing Drive Distribution Centre in South Auckland.
Introduced for the first time in 2022, the annual competition is designed to build a positive safety culture and supports the 100% locally owned and operated co-op's 'Journey to Zero Misses' philosophy encouraging the team to work safely, efficiently, accurately and with a high level of quality.
Foodstuffs North Island GM Supply Chain Jonathan Box says it was a no-brainer to bring the competition back for 2022 after the success of last year's inaugural competition and to expand the competition to include Low-Level Order Picking machines.
"It was great to see the competition return and see our people really get involved and showcase the amazing talents of our supply operations teams who are responsible for ensuring customers' favourite foods are on shelf when they come into store.
"We've seen an unprecedented time in the Foodstuffs North Island supply chain over the last two years, with our teams processing Christmas-level volumes of stock for seven weeks straight during our first lockdown period in early 2020. Our brilliant teams rose to the challenge and helped keep Kiwis fed over an uncertain time."
While the team at Foodies may more commonly refer to the competition as the "Forklift Rodeo", the MOOTY finals is much more than a driving test. Finalists had five challenging rounds to go through, including a technical driving course, a pre-operation check test, a novelty skills course where they carried tennis balls on cones on a 12-foot plank, a quiz, and a "spot safety assessment" where they were secretly observed on their machines in their workplace.
"As one of New Zealand's largest employers, our people are our greatest asset, so it's important we invest in them and create a safe and positive environment for them to thrive in.
"In the workplace this translates to improvements in safety, damages to product, quality, accuracy, and efficiency. The flow-on effect is passed to our stores and, more importantly, our customers with less damages, better quality pallet builds leading to stock on shelves, improved accuracy, and timely deliveries."
The three first place winners for 2022 were James Suka from the Pavilion Drive DC who won the Counterbalance Category, Wesley Kahu from Landing Drive DC who took out the Reach Truck competition and Christopher Matealona also from Landing Drive scored highest in the Low-Level Order Picker category.
Wesley Kahu, Reach Truck Category winner said he loved the competition and was stoked to win.
"It was my second time entering so I think that helped with nerves and stuff, but I was pretty determined to grab that first-place podium. It wasn't easy but I got there!"
Each winner walked away with a trophy, an air fryer, a $300 prezzy card, a goody bag of items from the competition sponsors, and they also get to officially receive their award on the stage of the Foodstuffs Award Ceremony towards the end of the year.
Second and third-place winners took home $200 & $100 Prezzy Cards respectively, and a goody bag each.
Overall results:
| | | | |
| --- | --- | --- | --- |
| Placing | Counterbalance | Reach Truck | Low-Level Order Picker |
| 1st | James Suka | Wesley Kahu | Christopher Matealona |
| 2nd | Shane Harrison | Daynon Forde | Shelley Salepea |
| 3rd | Mecham Smalley | Paul Shoemark | Antonio Failele |
| 4th | Lincoln Hikawai | Roy Simons | Bambini Pilisi |
| 5th | Mitchell Clarkson | Francis Silivelio | Falefehi Ali |
Foodstuffs North Island would also like to thank the sponsors who donated prizes for this year's event.
Special thanks to the following sponsors:
| | |
| --- | --- |
| AB Equipment | Fuso |
| Admark | Mainfreight |
| Carters | North City Diesel Porirua |
| CCS Logistics | NZI |
| Central Forklifts | Preowned Truck & Trailer Services |
| Coverstaff | Primepac |
| Crown Forklifts | Thermo King |
| ERoad | TR Group |
| Fairfax | Universal Packaging |