PAK'nSAVE extends Price Rollback to help customers save more millions
Tuesday, 16 August 2022
PAK'nSAVE extends Price Rollback initiative

New Zealanders have saved $13.8 million with rolled back prices so far


Butter, cheese and bread most popular Price Rollback products at PAK'nSAVE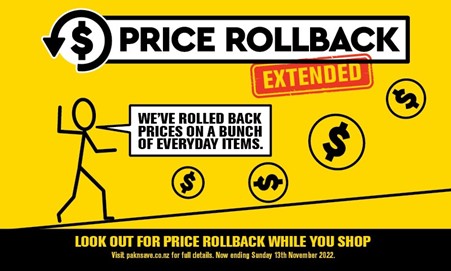 PAK'nSAVE is extending its Price Rollback initiative to continue to help Kiwis continue to save more millions on their grocery bills.
With food price increases at record levels globally and household budgets under continued pressure, PAK'nSAVE introduced the Price Rollback initiative in May 2022, rolling back the prices of 110+ of the most shopped products, to the prices they were a year ago.
Food inflation has continued to rise, New Zealanders are still facing rising costs across the board and the supermarket checkout is the place where all the cost pressures have been coming to a head as food producers and manufacturers are being hit with every global and domestic price hike going.
Damian Lynch, General Manager for Merchandise, Foodstuffs South Island, says "With the cost of living continuing to rise, we wanted to do something more to relieve the pressure on household budgets. Inflation has continued to put pressure on Kiwi's households with rent and power going up and we've had so much feedback that Price Rollback has made a difference to our customers, we've extended the initiative in-store and online."
"The Price Rollback shopping list was carefully selected to include essential products that most households buy."
"The Price Rollback product mix will be similar, but not the exactly the same, for Price Rollback Extended. There'll still be the basics like bread, butter, cheese, frozen vegetables and meat, but the product may be a different brand, or changed to suit the season. We've also taken general availability of the product into consideration, which has been fluctuating due to the ongoing global supply chain challenges."
All PAK'nSAVE stores are 100% New Zealand owned and operated by grocers who live and work in their communities.
Todd Leathem, owner operator at PAK'nSAVE Whangarei says, "we've seen first-hand how Price Rollback has really benefited our customers and the overall feedback has been really positive in our store. Customers have been so excited they can include kiwi-produced products like cheese and butter in their basket again with Price Rollback, so we're really pleased to be a part of extending the initiative. We see the struggles, and this is one way we can continue to help New Zealanders through the tough times."
PAK'nSAVE continues to deliver on its promise of New Zealand's Lowest Food Prices. Find out more here.