Foodstuffs to retail Rapid Antigen Tests, keeping New Zealanders safe and fed
Monday, 28 February 2022
The Government has approved the retail sale of Rapid Antigen Tests (RATs) through Foodstuffs' stores, following last week's shift to Phase 3 of the RED setting of the COVID-19 Protection Framework.
We're moving quickly to make these available for customers as our priority continues to be keeping our customers and team members safe, and working hard to deliver essential supplies to New Zealanders.
Rapid Antigen Testing (RAT) - We'll be selling in retail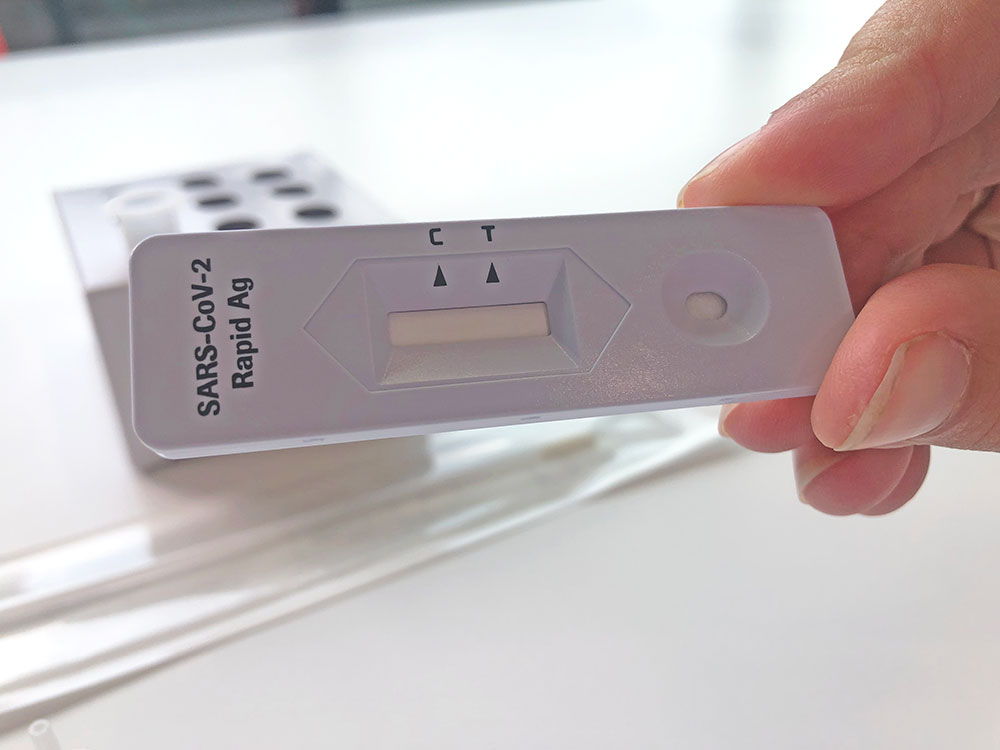 ---
As part of Foodstuffs commitment to be HereforNZ, Rapid Antigen Tests will be sold at cost price at PAK'nSAVE, New World and Four Square stores and could be available in stores as early as next week.
Foodstuffs will sell the Orient Gene Rapid COVID-19 Self Test 5-pack ($32.99 per pack) and the Ecotest COVID-19 Rapid Antigen Nasal Pen 2-pack ($19.99 per pack).
Rapid Antigen Testing is also proving a valuable surveillance tool within our co-operatives. Our teams in supply chain and our distribution centres are taking regular Rapid Antigen Tests which is reducing the risk of transmission at our sites and giving our people extra reassurance we're doing all we can to keep them safe at work.
Phase 3
Operating in Phase 3 means we're maintaining our support towards slowing the spread of Omicron and protecting our vulnerable communities. As has been the case throughout the pandemic, we're prepared and as ready as we can be for what the Omicron peak brings. We have plenty of stock in our distribution centres and we've been cross training and employing more people so we can keep the stock flowing to our stores and onto shelves.
Keeping our customers and teams safe
We're keeping all the tools we have in place to help keep people safe, including increased hygiene and sanitation measures, physical distancing in store, mask use for teams and customers and scanning the QR app.
Changes you may see in-store
As more team members are required to isolate you may start to see some changes to how we operate in-store, this is to make sure we can keep our teams and customers safe and the stock flowing onto shelf, so what you need is there when you do your shopping.
During the Omicron peak, we may reduce the opening times of individual stores, please check our websites and your local store's Facebook page for the latest up-to-date information.
We may also limit the number of products customers can buy in one shop, so everyone has a fair opportunity to get what they need. This will vary from store to store.
Our Kiwi suppliers and manufacturers are also doing their best to keep the stock flowing, if your favourite item isn't available when you shop, please take the opportunity to try something different.
Access to groceries if you're unwell
As Government has advised, household contacts of individuals diagnosed as positive with Covid-19 are required to isolate and we also ask customers to keep playing their part by using alternative methods to get their groceries instead of shopping in-store if they are unwell.
If customers are unable to come into our stores because they are vulnerable, feeling unwell, or are isolating at home, we encourage them to ask a friend or neighbour to shop for them, or use our online and Click & Collect services, where available. Additionally, Student Volunteer Army have reinstated their grocery delivery service in partnership with New World, predominantly to support people with COVID-19. To access this service go to www.shop.sva.org.nz or call 0800 005 902.
Getting the best value
Supporting New Zealanders to find value with the rise in the cost of living is a challenge we take on every day with passion. We're not increasing prices as a direct result of COVID-19, we haven't before, and we won't now.
Food prices have always varied with product demand, seasonality, weather, and if the product is on or off special playing a role.
We know getting the best value is really important to customers right now, so we suggest shopping seasonally, comparing prices on-line and checking out our websites and apps for more budget busting ideas.
Foodstuffs is 100% locally owned and operated so our store owners know their communities and their customers and go the extra mile to meet their needs. Over the past two years we've continued to keep all of our stores open, and we're so proud of that. We're a small country and we've done well through this pandemic by working together and respecting each other, and we'll need to continue to do that.