Unveiling of EV Fast Charger at New World Levin - with Hon Dr James Shaw
Friday, 06 July 2018

Minister for Climate Change, the Hon Dr James Shaw unveiled the latest electric vehicle charger in Foodstuffs' expanding network at New World Levin on July 5, 2018.

With a nationwide focus on reducing New Zealand's reliance on fossil fuels as part of the move to a Zero Carbon economy, the high-speed charger is another milestone in encouraging the uptake of electric vehicles.

The DC fast charger, installed and managed by ChargeNet NZ, and supported by EECA through their Low Emission Vehicles Contestable Fund, is conveniently located at the New World Levin, right on State Highway 1; an hour's drive north of Wellington.
It will allow drivers to park, plug in, and recharge while they do their shopping and is one of 50 electric vehicle chargers to be installed at New World, PAK'nSAVE, and Four Square stores around the country by the end of 2018.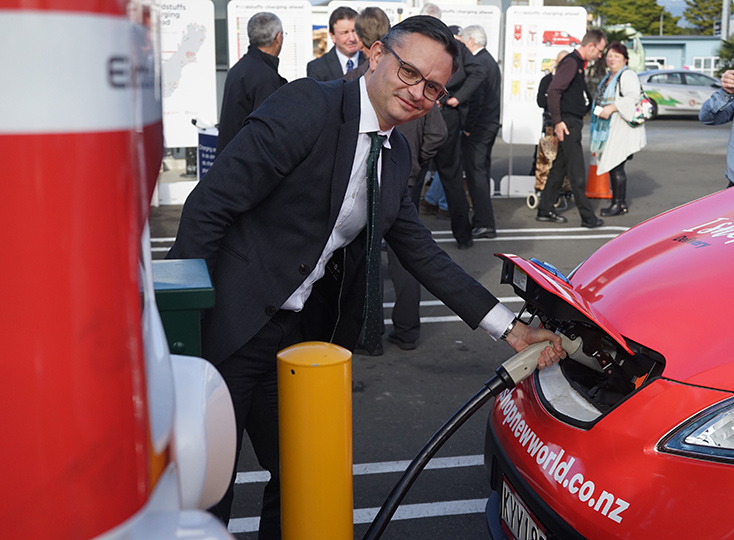 Hon Dr James Shaw at New World Levin
The new Levin electric vehicle fast charger marks the project's half-way point.
The network is being rolled out in collaboration with the Energy Efficiency and Conservation Authority and electric vehicle charging network provider, Charge Net NZ, helping to ensure that New Zealanders have access to charging stations, everywhere while they are on the move.

"We are excited that the district's first charging station has opened this week. It will boost local awareness of the technology and help support the smooth driving of electric vehicles on a very busy highway between Palmerston North and Wellington," says Horowhenua District Council Mayor Michael Feyen.

New World Levin owner operator Matthew Rollinson says the supermarket retailer is committed to sustainable practices along with parent company Foodstuffs North Island.
"Promoting the uptake of clean energy transport with electric vehicles is a very important part of the puzzle. We're creating a one stop shop with an electric car fast charger conveniently located at our store, and this complements our online delivery service that uses an all-electric van."

ChargeNet CEO Steve West says, "Our rationale for investing in building this electric highway across New Zealand is that a user-friendly network with handily located chargers, like this one in Levin, will eliminate the anxiety of batteries running low. This gives Kiwis more confidence to invest in electric vehicles – speeding up our transition towards a Zero Carbon economy."


KEY FACTS

There are over 8,000 electric vehicles registered in New Zealand, with numbers doubling year on year.
A fleet of 28 New World, PAK'nSAVE, and Four Square electric delivery vans is one of the country's largest company fleets of fully-electric cars.
Electric vehicles can drive 100-500km per charge depending on their battery size, and older models can cost as little as $10,000 as a used import.
Most New Zealanders will charge electric cars overnight at home.
A 25-minute fast charge will generally add over 100km worth of driving range to the battery.
It is substantially cheaper to drive on electricity than on petrol or diesel: as little as the equivalent of 30c/litre at home overnight. Supermarket chargers will cost around $10 per 100km given the cost of installing and running the high-power machines.
A network of fast chargers at supermarkets means drivers can recharge quickly near where they live, work and shop, and while on extended road trips.
The new fast charger was co-funded by the Government's Low Emission Vehicles Contestable Fund, administered by the Energy Efficiency and Conservation Authority (EECA) and installed by ChargeNet.
To use the machines, customers sign up at www.charge.net.nz then use their smartphone or a special dongle to begin charging.