Wellington City Mission and New World celebrating one year of Social Supermarket service to Wellingtonians in need
Thursday, 17 March 2022
This week marks one year since the opening of New Zealand's first Social Supermarket, an innovative partnership between the Wellington City Mission and New World that has improved food security for more than 3,200 Wellingtonians in need in a dignified way.
Open and free to anyone across the Wellington region who needs extra help, the Social Supermarket in Newtown puts shopper experience and choice at the heart of its operation. For the past year, customers who need food support have been able to choose their own groceries from a wide selection of food and essentials in a supermarket environment – rather than collecting a pre-selected food parcel from the Mission.
Since opening on 15 March 2021, 3,268 shoppers have shopped for free in the Social Supermarket, giving them access to essentials with dignity of choice.
"The idea of the Social Supermarket is there is dignity in choice and people can have a sense of normality in what they do and not feel isolated or stigmatised by their circumstances," says Murray Edridge, Wellington City Missioner.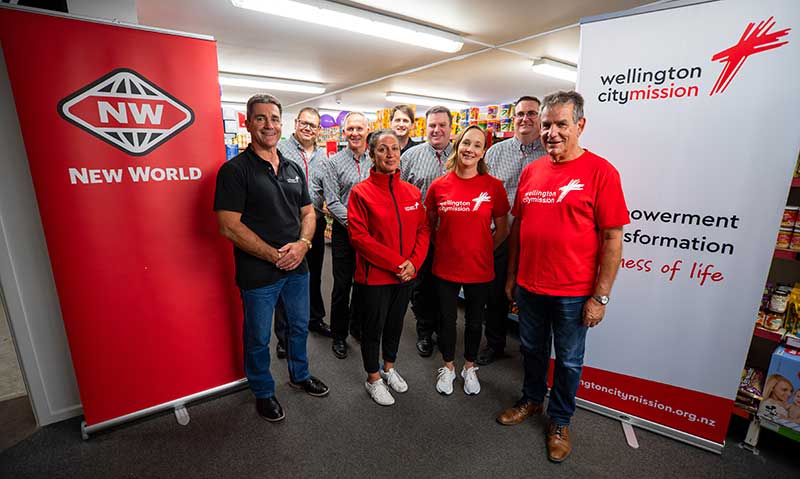 "We can only imagine how hard it must be for someone to ask for food support, and we wanted to a make a positive change to our Foodbank model that makes this experience easier. The Social Supermarket has done just that, and it's been incredible to see the difference it has made to people's lives here in Wellington."
"During the Omicron outbreak we have been shopping on behalf of those that need our help. And if families are unable to pick up their groceries, we've been delivering all over the Wellington region in a contactless way."
"New World has been the ideal partner for this project", says Edridge.
"We already had a close working relationship with New World across Wellington, they're always hugely supportive with donations and through their annual Family2Family Foodbank Appeal, so when we started to develop the Social Supermarket concept, we picked the phone up and asked for their help."
"Straight away the New World team understood what we wanted to achieve and how important it was to bring an authentic supermarket experience to individuals and families who are experiencing financial stress and food insecurity."
"As lead supporters of the project, the team have been with us every step of the way, providing valuable expertise, logistical support and equipment such as shelving and fridges for food displays."
Chris Quin, CEO of Foodstuffs North Island who operate New World, says the partnership is a natural extension of a long-standing relationship between New World, its local owner operators and Wellington City Mission.
"Working together on the Social Supermarket, which is a first of its kind in New Zealand, provided an opportunity to extend the co-operative's commitment to helping ensure all New Zealanders have access to healthy food," says Quin.
"It's been fantastic to see the positive impact this initiative has had over the past year, at a time when more New Zealanders are facing increasing hardship and challenges. We're humbled to work with the Wellington City Mission and continue supporting their incredible community efforts."
As part of their commitment to be HereforNZ, Foodstuffs is now partnering with several more community organisations to set up and operate social supermarkets.
"We've made a promise to provide New Zealanders with access to healthy affordable food and to support local communities to thrive. Social supermarkets are one of the coolest ways we can support and deliver on this promise." says Quin.
If you need food support, or would like to refer someone to Wellington City Mission's Social Supermarket, enquires can be made by emailing [email protected]
You can donate to The Mission's Social Supermarket by dropping food products to reception, located at 19 Gordon Place, Newtown, Wellington. For more information go to https://wellingtoncitymission.org.nz/
For more information about Foodstuffs' commitment to be HereforNZ click here.