Packaging
We're committed to improving packaging sustainability and are working hard to reduce the environmental impact of packaging across the business.
Our commitment to doing better
We know packaging pollution is an issue many New Zealanders care deeply about. It's an issue we care deeply about too.
As one of the first retailers in New Zealand to sign up to the New Zealand Plastic Packaging Declaration, we are working towards 100% reusable, recyclable or compostable retail and private label (Pams, Value and Gilmours) packaging by 2025. This commitment applies to all packaging types. For example, plastic, fibre, glass, and metal.
Packaging serves an important role in the food and grocery sector to protect goods, extend shelf-life and communicate information to customers. But, it is important that packaging is designed with 'end-of-use' and the New Zealand recycling system in mind.
Some of our top priorities are:
Removing and reducing unnecessary packaging.
Product stewardship and circular design (making sure resources are used again and again and considering how they're disposed of).
We are proud to work collaboratively to help bring stores, suppliers and customers with us on this journey, and we have been busy taking stock of the packaging used and sold across our business, so we can roll out improvements to "remove", "reduce" and "reuse".
In 2022 we completed an audit of in-store retail packaging to understand how we're tracking towards our 2025 goal. We're making great progress, with 85% of our packaging now reusable, recyclable or compostable (by weight).
Of the packaging that isn't compliant with the guidelines, the majority is PVC wrap which is earmarked by the Ministry for the Environment for phase-out by 2025. The wrap is used in our meat, seafood, deli and fresh produce departments and is an integral part of how we present, preserve and protect products we prepare for customers in our stores. We have recently completed a series of in-store trials directly comparing PVC and PE wrap on our automated and hand wrapping machines. These trials are an important step towards all our in-store wrap moving to recyclable PE.
Our packaging principles
To keep our work focused, we have also developed 10 Sustainable Packaging Principles and are actively encouraging our suppliers to move in this direction with us.
Examples of our packaging principles:
To include messaging in packaging design to let consumers know the best way to dispose of it after use.
Where appropriate, design packaging so it can be reused.
Where plastic is necessary, prioritise clear plastics type 1 and 2, as these are recyclable through all kerbside collections in New Zealand.
Read about our 10 Sustainable Packaging Principles [PDF|217kb]
Are you a supplier? Find out more about these principles and NZ specific resources.
What we've been working on
Removing single-use produce bags from our stores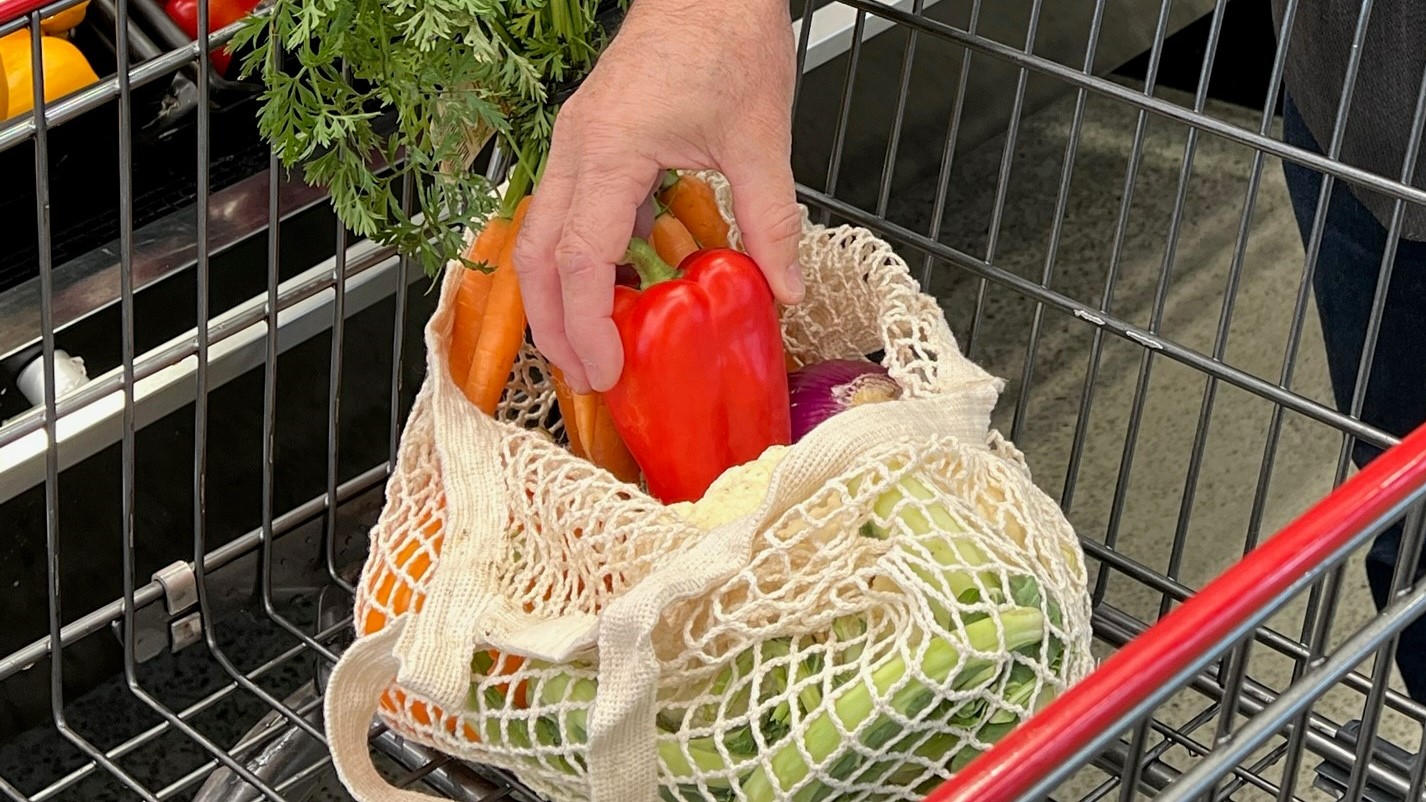 On the 1st of July 2023 New Zealand will be saying NO to single-use plastic produce bags as part of the Ministry for the Environments phase out of hard-to-recycle and single use plastic programme.
Phasing out hard-to-recycle and single-use plastics | Ministry for the Environment

We are encouraging our customers to go bagless where possible and use reusable produce bag options whenre necessary. Our stores will have a small range of paper bags available while we all get used to not reaching for a plastic bag in store.

For more information on shopping for produce at our stores visit:
rPET trays
We're proud to have led the way with the elimination of polystyrene foam meat trays and the adoption of widely recyclable rPET meat trays (clear trays made from at least 50% recycled content). We began the move to rPET meat trays in 2012, which impacts about 120 million trays used in our fresh departments per year.
Did you know? This was a collaboration between Foodstuffs and Alto, a packaging supplier, where we worked through at least four design cycles to get the formula right.
If you've got an rPET tray at home, remember to remove the overwrap, rinse the tray and pop it in your kerbside recycling bin.
Ecostore Refillery
The Refillery was the first partnership of its kind in New Zealand between ecostore and a supermarket chain! In the same way shoppers buy nuts and seeds from the supermarket bulk bins, customers can now refill their ecostore bottle by tap or pump at participating New World stores.
The process is simple: select the product, whether it's shampoo, conditioner, hand and body wash, laundry or the dish-washing liquid, fill your bottle to the top, write the product code and name on a label, put the label on the bottle and go to the checkout to pay.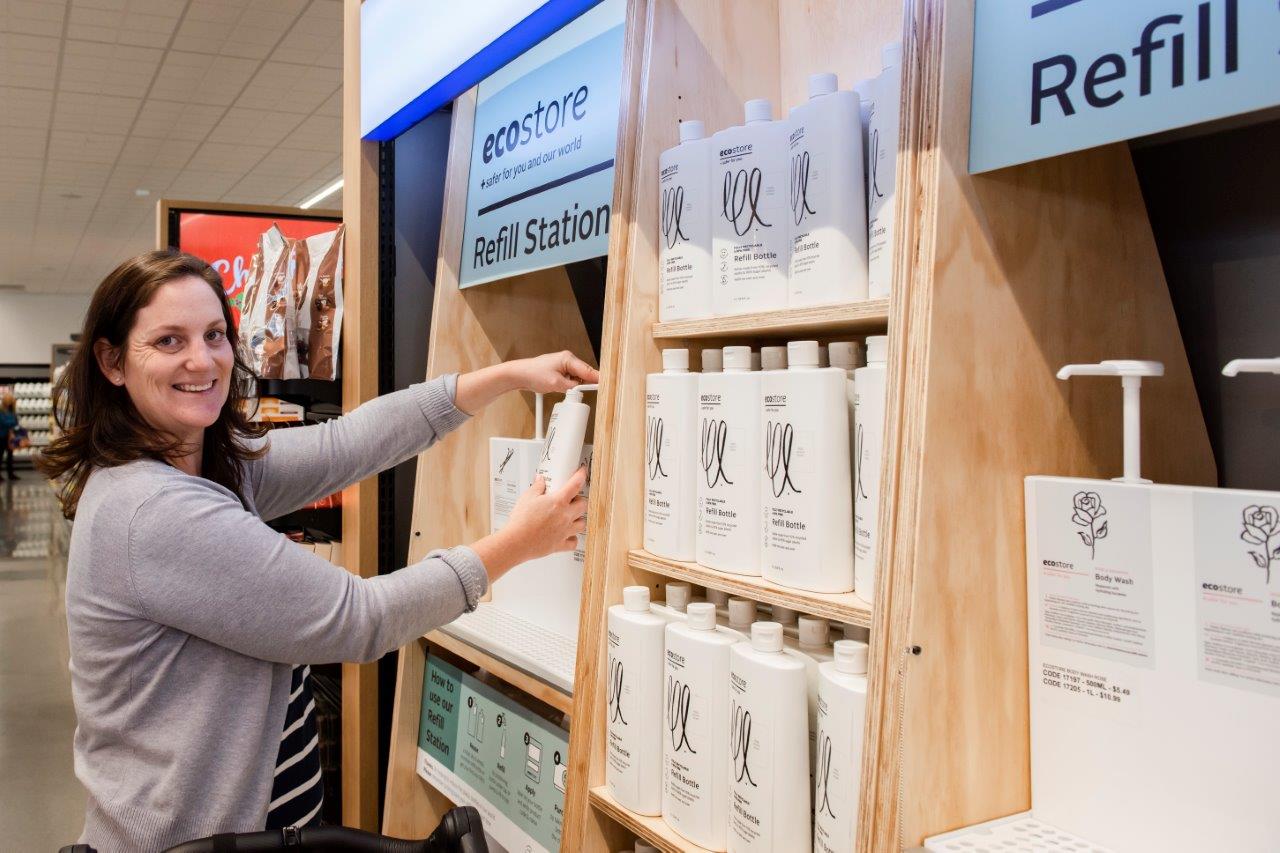 ---
Following a successful launch at New World stores in the South Island, shoppers can now find ecostore refill stations in some of our North Island stores, including New World New Lynn, New World Browns Bay and New World Whitby.
CareFillery
---
New World's are rolling out our new look bulk bins. Currently in 32 stores in the North Island – the CareFillery is helping customers make sustainable choices in their everyday shop. With up to 120 selections, depending on the store, customers can reduce food waste by buying only what they need. Choosing the paper bag option, or by opting to re-use the plastic bags provides, customers can also reduce unnecessary packaging.
---
Soft plastics
The Soft Plastics Recycling Scheme helps customers dispose of soft plastics in an environmentally friendly way. On the North Island we have 73 stores participating in the scheme covering Northland, Auckland, Hamilton, Hawke's Bay, Tauranga , Gisborne, Hauraki, Coromandel, and Wellington. In 2022 our customers have returned 146 tonnes of soft plastic for recycling back to our stores. The collected soft plastic is shredded and reprocessed to make fence and vineyard posts, garden edging and other durable plastic product.
Bring your own container
After successful trials, customers can now BYO containers at New World and PAKn'SAVE North Island stores! By enabling customers to bring their own clean, leak-proof containers for use at our butchery, seafood, bakery and delicatessen counters, we're working together to to reduce waste and look after New Zealand.