A new look for Four Square Waverley
21 September 2023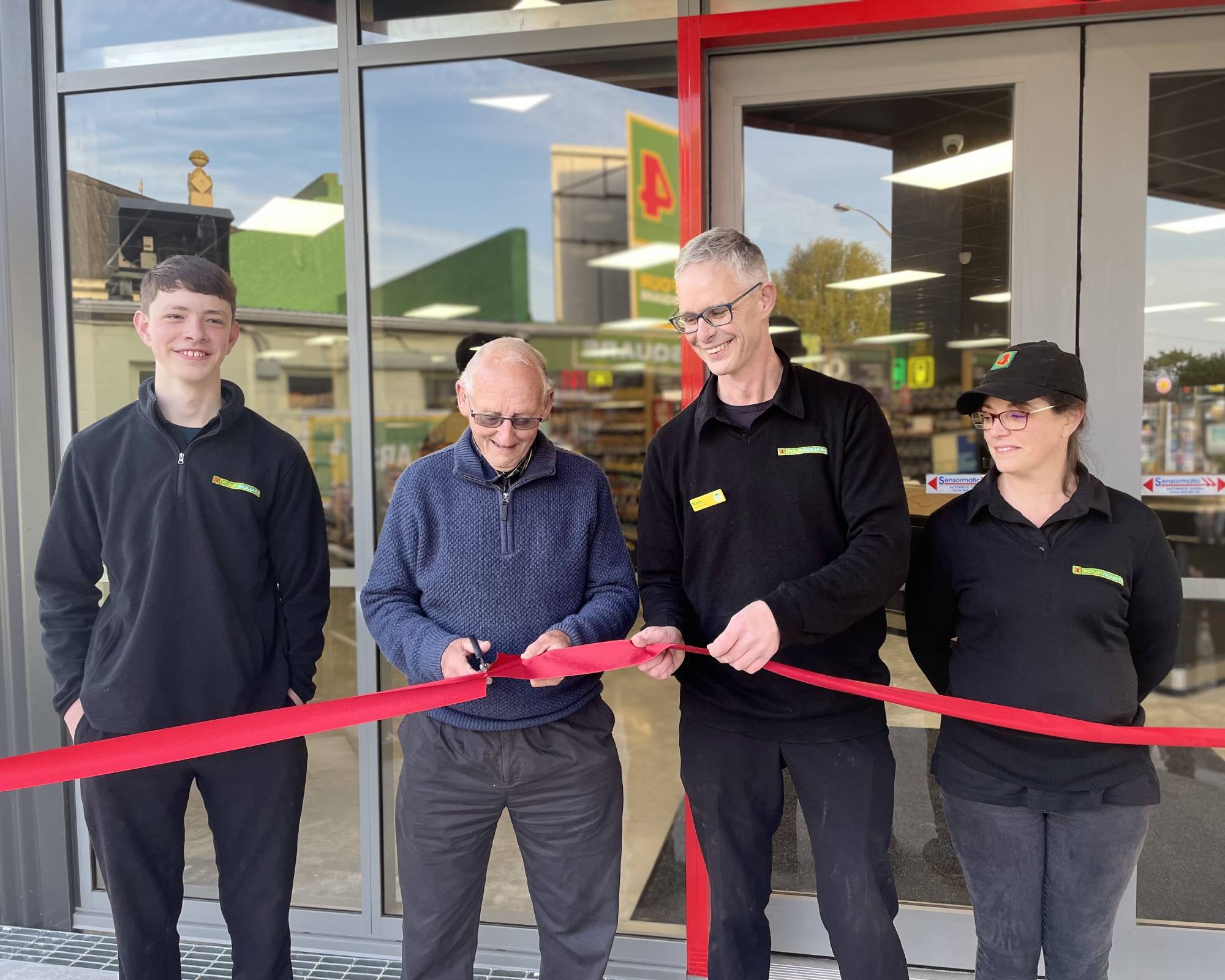 Former owner operator of Four Square Waverley, Owen Savage cuts the ribbon while current owner operator Steve Dowman and wife Rosalie watch on
Four Square Waverley by the numbers:
16 roles, with team members all from the local area

432 sqm building

14 carparks coming soon

3 operator checkouts

6 aisles
A brand new Four Square has officially opened its doors today in Waverley, in the South Taranaki. Owned and operated by long-time Waverley local, Steven Dowman and wife Rosalie, the new and improved Four Square has been designed in the latest "4.0" format of the brand that's been around for 99 years.
The 4.0 stores being rolled out across the country showcase the new Four Square brand identity, a contemporary store layout designed for convenience and ease, premium local partnerships, self-service checkouts, and food-to-go options. All new Four Square stores offer the same core items, with specific products tailored to the community they serve.
Four Square Waverley will offer all the essential grocery items plus barista made coffee, hot chicken and chips, pies, real fruit ice cream and fresh sweets such as donuts and slices.
Owner Operator Steven Dowman says: "Four Square is one of the country's longest-standing brands but it's developing some of the coolest new stores for local communities. We've got a full grocery store now and it's going to be amazing for the community. You know, it's a 100 kilometre round trip to either Hāwera or Whanganui so being able to do a full shop in town is going to bring a new level of convenience for locals and save a bit of time and petrol."
"We really value feedback from our customers and will keep adding and removing products depending on what people want us to stock" - he added.
In addition to the in-store changes, Steven is addressing another key issue many locals have voiced concerns over - parking. With the original Four Square Waverley built in 1934, demolition of the old store will begin straightaway with the space being repurposed into a car park where there will be 14 off-street parking spaces available.
Steven says: "The extra parking is probably the change I'm most excited about but Four Square is all about community, superior service and a deep-rooted community mindset. It's what sets us apart and gives us an advantage."
Steven has spent the last 10 years growing his store into one of the busiest Four Square's in the North Island – no small feat for a town with a modest population of 800 people.
It was in 2019 and recognising the need for a major expansion due to the store's growing popularity, that Steven says it was time to invest in building an entirely new supermarket right next door.
"What we've got now is a complete and total upgrade which suits the needs of the community far better than any renovation could have achieved" Steven says.
"We've seen our customer base grow to over 5,000 weekly visitors, and we owe it to them to continually give them a great shopping experience."
Foodstuffs North Island is a 100% New Zealand owned co-operative of local grocery retailers. Each grocer owns and operates a New World, PAK'nSAVE or Four Square store in their community.
Four Square Waverley is the tenth new site opening for the co-operative this year, with the most recent new store being Four Square Onehunga that opened in July.
Steven runs the supermarket, alongside his wife Rosalie, who manages the administrative side of the business.
"I'm immensely proud of the team we've built over the years," Steven says. "Their dedication and familiarity with the community is something really special."
The new Four Square Waverley is located a stone's throw from the original store at 50 Weraroa Road, Waverley 4510. Opening hours are 6am to 7pm weekdays and 7am to 7pm on weekends.