Father and son grocers rally communities in Cyclone Gabrielle aftermath
31 August 2023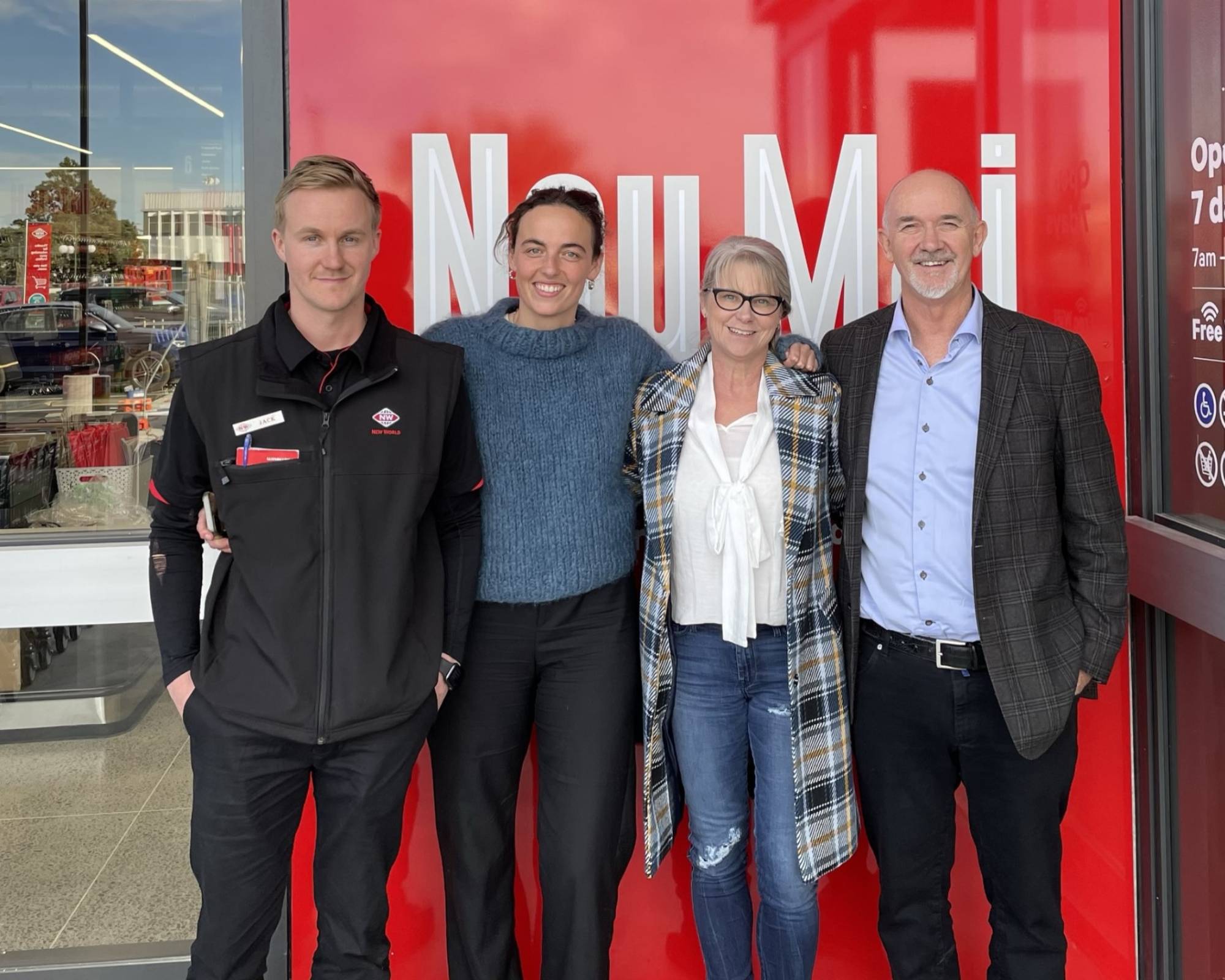 Jack Beaton and his partner Natalie alongside Iain Beaton and his partner Kirsten, attend the opening of New World Wairoa
Most of us joke about turning into our parents, but for Jack Beaton, fourth generation grocer and owner operator of New World Wairoa, that transformation would prove to be lifesaving.

On what seemed like a regular February evening in Hawke's Bay, Jack messaged one of his drivers about the following day's tasks and then wrapped up his duties for the day.

By the following morning, he would be waking up to the catastrophic aftermath of Cyclone Gabrielle and a town robbed of all power and communication.

As the owner of the sole supermarket in the area, serving a community of 8,000, Jack knew he had to step up and be a leader.

"I spent my childhood working with my dad at his supermarket, so I did my best to draw upon that knowledge. I kept asking myself: 'What would dad do?'" Jack says.

Initially, Jack wasn't too worried about himself. Despite a lack of power and blocked roads in all directions, he knew what needed to be done to coordinate the relief effort, something years spent training under his father's guidance had prepared him for.

"But then I started hearing through the radio that Taradale was underwater. That's where my dad is, and it hit me that he might be in trouble."

Just two hours south of Wairoa is the Hawke's Bay community of Taradale, the town where Jack was raised and where his father Iain Beaton, has run his own business as owner operator of New World Greenmeadows for the last 40 years.

At the same time, unbeknownst to Jack, Iain was getting distressing news about Wairoa.

"We live in a world where communication is at your fingertips, so having that blacked out made me extremely anxious," Iain says.

"The brief snippets I kept hearing from the outside world were that Wairoa had been flooded just like us.

"I didn't know where Jack was or what he was doing, but I knew I had to focus on servicing the community and keeping everything under control.

"The irony was, we were probably both more concerned about each other's safety than our own!"

With the roads in and out of both towns completely blocked, Jack and Iain were instrumental in distributing essential grocery items delivered by a helicopter leased by Foodstuffs North Island, the co-operative behind New World, PAK'nSAVE and Four Square stores, setting up supply chains and communicating with Foodstuffs and Civil Defence.

Jack says the responsibility of ensuring the safety of team members and providing access to supermarket essentials meant he had to put his worries aside.

"I had the community depending on me. So, for the next three days, my only focus was on keeping my team safe and delivering for the community," he says.

"I'm sure my dad would've done exactly the same."

It took Wairoa 12 hours for power to be restored, while Greenmeadows was left without power for five days.

Jack and Iain were able to get their supermarkets up and running in a limited capacity, operating first on a cash only basis, before setting up WINZ cards with their local councils. The pair gave as much food and essential items as possible to community groups in order to help those who couldn't buy groceries.

Iain says every customer he served during that period was "amazing."

"We didn't see any bad behaviour. Everyone was just so grateful they could still get something to eat."

"We were very lucky the store survived mostly intact. Despite all our refrigerated perishables needing to be thrown out, Foodstuffs pulled out all the stops and were able to chopper in supplies within 48 hours, including a Starlink kit so we could get back online.

"With patchy mobile reception, our carpark was full of people using our WIFI to communicate with friends and family.

As Jack and Iain both organised their respective relief efforts, thoughts of each other's wellbeing never left their minds.

"I was craving some indication he was ok, but I also knew Jack was resilient and would have things under control." Iain says.

"He couldn't just take over my business, he had to earn his stripes himself and do the hard mahi to become an approved owner operator."

"Now he's at the starting line of his career and I'm approaching the finish. A cyclone is certainly one hell of a character-building experience."

Finally, after three long days, Jack's phone suddenly got connectivity again.

"I was flooded with over 100 messages from people worried about me because no one had heard anything out of Wairoa," he says.

"Then I felt this big emotional wave and thought, I need to ring my Dad."

"When he picked up after a few rings, it was such a relief and I'm sure he felt the same. We'd both been flat out dealing with our own emergency responses, so to know he was ok was such a relief."

"For someone like my father, who has been a grocer for 40 years, the thought of his business and the community he serves getting destroyed was gut-wrenching. Nobody wants their dad to go through that" Jack says.

It took another 120 days for the roads to Greenmeadows to be cleared and Jack and Iain to finally reunite.

"You never know how much support you need until you go through a crisis.

"It helped to know my dad was dealing with the same stuff and it goes to show, it doesn't matter how old you are, it's great knowing you've got your dad supporting you." he says.