Tough winter and hard work ahead to chill inflation heat: value remains critical for households as costs continue to rise
17 April 2023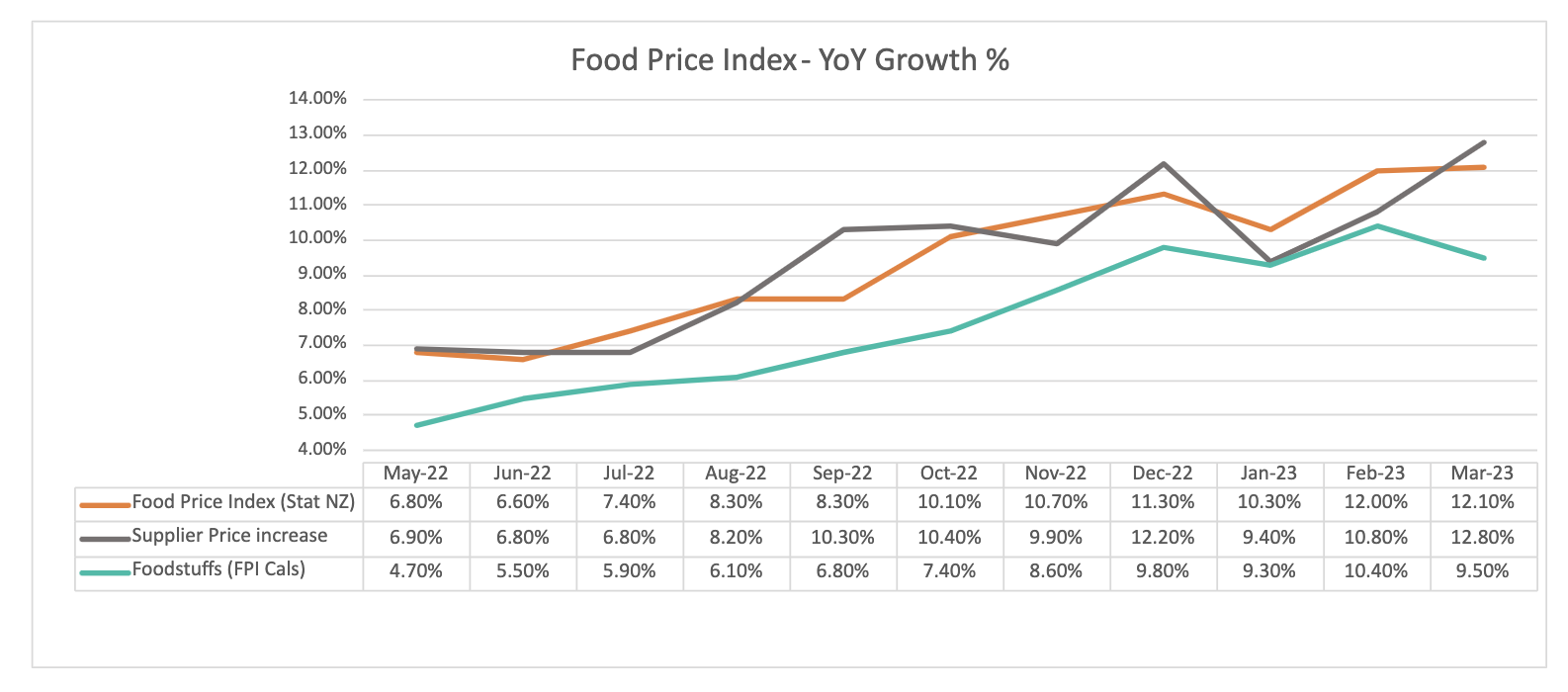 Stores in the Foodstuffs co-operatives hold price increases to customers below inflation and below supplier cost increases for 11 months in a row.
The numbers:
• Stats NZ Food Price Index (FPI) shows food prices increased 12.1% for March 2023 compared to a year ago.
• In March, the average product cost increase from suppliers to the Foodstuffs co-operatives on the same products measured in the FPI basket was 12.8%.
• On the same products, the retail price increase from stores to Foodstuffs customers was 9.5% - meaning the co-operatives' members held prices in their stores at 2.6% less than inflation in March, and 3.3% below cost increases from suppliers to Foodstuffs on the FPI basket.
• This month's Infometrics - Foodstuffs New Zealand Grocery Supplier Cost Index shows overall cost increases from grocery suppliers to supermarkets up 10.3%pa in March.
• The largest component of retail shelf prices is the cost of goods from our suppliers – around 68c in every dollar.
"With inflation stubbornly high, mounting cost pressures on businesses, rate hikes about to hit mortgage holders and a recession looming, it will be a tough winter for New Zealand businesses and households," says Foodstuffs Managing Director Chris Quin.

Commenting on the latest food price inflation figures released by Stats NZ today, Quin says inflation is not yet showing signs of loosening its grip and New Zealanders are continuing to feel the squeeze.

"The cost of growing, manufacturing, importing and retailing food supplies in New Zealand remains under intense inflationary pressures and we're focused on balancing what's right for our suppliers, co-ops, communities and customers. 

"With inflation still at record levels, value remains critical for New Zealanders and they're shopping around for the best deals, making retailers compete hard for every dollar in their budget.
"Our co-ops must buy as well as we can, make sure customers can easily find value in store by pricing accurately, and run our businesses as efficiently as possible to keep costs under control to fight the causes of inflation. Our customers are holding us accountable to do what's right, not just what's easy.

"Our focus on value, including having products customers want on promotion, has meant we've been able to hold price increases to customers well below FPI and supplier cost increases in March."
This month's Infometrics - Foodstuffs New Zealand Grocery Supplier Cost Index shows cost increases from suppliers to Foodstuffs for grocery goods remain at elevated levels, up 10.3%pa in March. This marks six consecutive months where the average supplier cost increase has been above 10%pa.

Food prices globally are still rising and, in the UK, one of the most competitive grocery markets, food prices soared 18.2% through the year to February - the sharpest rise since the late 1970s.
Quin says it's tough across the industry from paddock to plate.

"Like all businesses, we're facing persistent input cost pressures across the board including transport, labour and the cost of goods we buy to put on shelf. In addition, we've had significant one-off costs from the Auckland floods and Cyclone Gabrielle which our co-ops have absorbed to get stores back open and keep food on shelf."

Foodstuffs' latest Customer Insights Survey shows around 1 in 10 customers (11%) say they have a fixed rate mortgage due in the next six months. 90% expect this renewal at higher interest rates to have a negative impact on their current financial situation.

"As we head into winter, it's getting tougher for many New Zealanders and with interest rates predicted to climb further and stay higher for longer we have to be laser focused on delivering the very best value we can for our 3.5 million shopping visits in our stores or online every week," says Quin.

Large challenges remain for local growers, manufacturers and retailers of food who are all currently getting to grips with what severe weather events will mean for New Zealand produce supply in both the short and longer term.

"Shopping seasonally remains important, and through March customers have been able to find value in produce like cucumbers (down 13%pa), green cabbages (down 16%pa) and white button mushrooms (down 11%pa)," says Quin.

"In March, the cost of cauliflower and kumara remained elevated due to the extreme weather of 2023. We're continuing to see growth in our chilled and frozen categories as customers adapt their shopping habits to make their budget go further.

"The war on inflation is increasingly longer and harder, requiring a continued focus on fighting the real causes."