Weather remains wild card for food price inflation, with adverse weather events hitting Kiwi growers over summer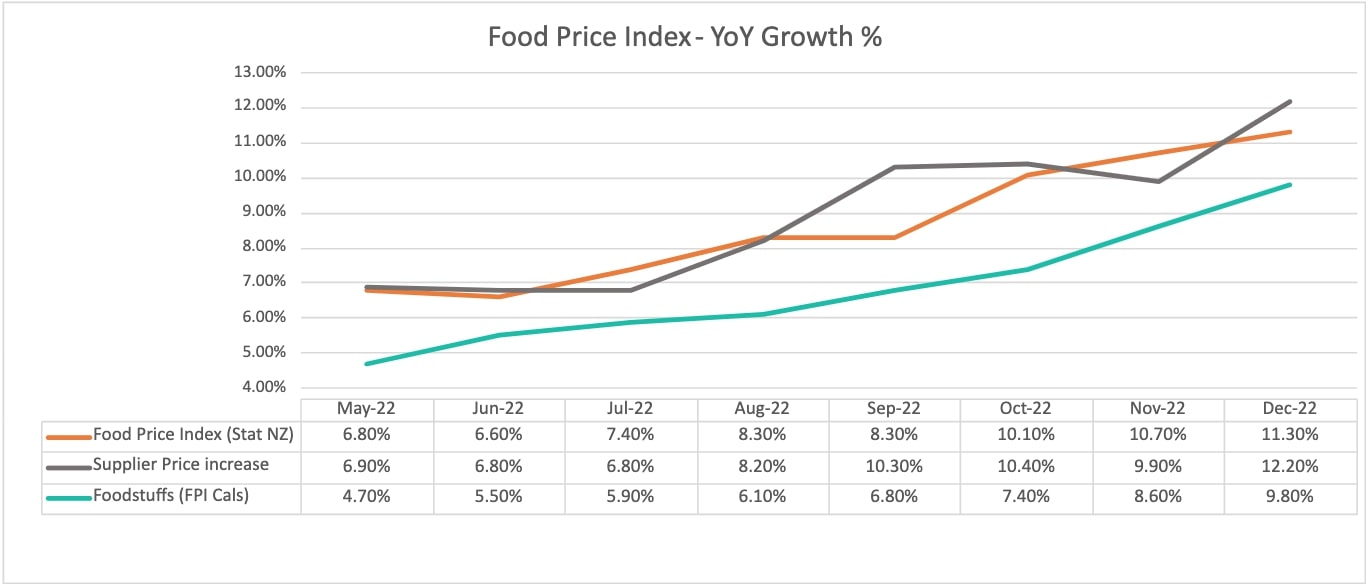 Thursday, 19 January 2023
Stores in the Foodstuffs co-operatives hold price increases to customers below inflation and below supplier cost increases for eight months in a row.
The numbers:
Stats NZ Food Price Index (FPI) shows food prices increased

11.3

% for December 2022 compared to a year ago, the biggest annual increase since April 1990.
In December, the average cost increase from suppliers to the Foodstuffs co-operatives on the same products measured in the FPI basket was 12.2%. There were 30% more cost increases in December compared to the same time last year.

On the same products, the retail price increase to Foodstuffs customers was 9.8% - meaning the co-operatives' members held prices in their stores at 1.5% less than inflation in December, and 2.4% below cost increases from suppliers on the FPI basket.

This month's

Infometrics - Foodstuffs New Zealand Grocery Supplier Cost Index

shows sustained input cost pressures as suppliers continue to pass through the higher costs they are facing, with a 10.6%pa rise in December. The largest component of shelf prices is the cost of goods from our suppliers – around 68c in every dollar.
"There's still plenty of uncertainty about how strong the economic headwinds will be this year but our co-operatives are continuing our inflation fight for customers at the checkout," says Foodstuffs NZ Managing Director Chris Quin.
Commenting on the latest food price inflation figures released by Stats NZ today, the largest annual increase in 32 years, Quin says local cost pressures are still present for everyone growing, manufacturing and retailing food in New Zealand.
"Most are predicting that 2023 will be tougher for households, but we'll be looking towards the second quarter of this year to see whether a clearer picture has emerged.
"The first quarter will be important for getting the lay of the land, with a number of big decisions from the Reserve Bank and data coming out from the US and Europe, which will give us a better idea of where inflation is sitting.
"Domestically, input cost pressures are continuing for suppliers who are facing higher costs to grow, pick and pack produce for market, with adverse weather events still the wild card this year. It's been a pretty tough summer so far for growing produce and it's going to be a couple of weeks before the full impact of Cyclone Hale is known.
"We've had to import more fresh produce than in previous years because we couldn't buy it here in New Zealand, it just hasn't been available locally.
"Despite the ongoing challenges, there was still some good value to be had for customers over the Christmas trading period, including seasonal produce like telegraph cucumbers, lettuce and broccoli.
"Overall, we've been hearing a lot about global commodity prices coming off their peak, while still at historical highs, and inflation pressures are easing in both the US and in the UK. The question is whether inflation has peaked or whether there's still some way to go.
"International fuel prices and shipping costs are also moderating, but that relief is yet to be felt here since it takes longer for those changes to flow through to us in New Zealand.
"Other factors impacting food prices include the tight labour market, increasing wages, the weaker NZ dollar, increasing fertiliser costs for suppliers, and the upcoming end to the fuel subsidies, but that picture might change rapidly this year.
"Our two co-operatives are continuing to do everything we can to keep delivering the best value for customers in the face of rising costs and it's good to see those efforts reflected again in this month's numbers.
"Given the usual price change moratorium over the holiday period and the resulting lower volume of price changes, it's still not clear whether cost pressures have started easing for suppliers and how this will impact food prices into 2023."
The moratorium is used to minimise system and data changes and protect trading for customers over the holiday period, and is standard practice in New Zealand and all over the globe.
"Our co-operatives will stay laser focused on helping customers fight inflation and find value within their household budgets this year, while we wait and see what's in store for 2023," says Quin.